CUBAN INFORMATION ARCHIVES
DOCUMENT 0231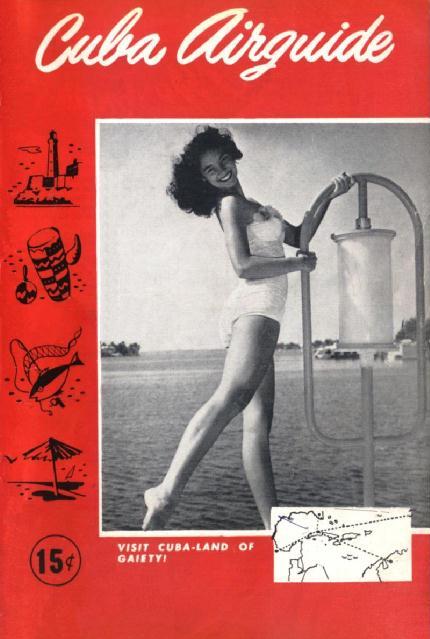 [ Main Site Menu ] [ Back to Tourism Menu ] [ Index to Site Documents ]
---
---
[CUBA AIRGUIDE, VOL. 1 JUNE 1954 NO. 4, Publisher: Miguel M. Fox]
---
CUBAN TOURIST COMMISSION
postcard for tourist response.
page 2
Montmartre Advertizement
Page 3
PHOTO .. .. PHOTO [Marta Velez].. PHOTO ..
CUBA AIRGUIDE
VOL. 1 JUNE 1954 NO. 4
Publisher: Miguel M. Fox
Contents
Spotlight.................................................... 5
Beautiful Camaguey................................10
Miami: A Paradise at our Doorstep.......14
Mexico: A Paradise at our Doorstep.....19 ....NOT INCLUDED HERE
Springtime in Andalucia..........................23 ....NOT INCLUDED HERE
Miss Cuba...............................................28
Movie Notes...........................................32
Havana by Night.....................................35
The Isle of Pines
.....................................42
AIRGUIDE Visits Montmartre
.............46
Air Travel to Europe..............................50 ....NOT INCLUDED HERE
Crossword Puzzle...................................54 ....NOT INCLUDED HERE
Horoscope..............................................55 ....NOT INCLUDED HERE
Tourist Supplement
HAVANA...........................................57
MIAMI..............................................62
MEXICO...........................................66 ....NOT INCLUDED HERE
MADRID..........................................68 ....NOT INCLUDED HERE
Humor................................................... 70 ....NOT INCLUDED HERE
OUR COVER
Shapely Jackie Walker is very obviously enjoying her vacation in Florida, as this picture of her, taken in Miami Beach, shows.
Published monthly by Editorial Carbonell. Editorial and Advertising Offices: Edificio Linea & N, Apt. 401, Vedado, Havana, Cuba. Phone: FO-4782. Entered as second class matter at the Post Office at Havana, Cuba. Price per copy: $0.15. Authorized by the Cuban Tourist Institute.
Guaranteed Circulation: 18,000 copies.
Page 4
El Encanto Advertizement
Page 5
SPOTLIGHT
The President of Cuba, Fulgencio Batista, inaugurated Topes de Collantes Sanitarium, an extraordinary structure built on the peak of a mountain in Trinidad, for the treatment of lung diseases. This magnificent hospital, to be named after General Batista, has beds for a thousand patients and all its equipment is as up-to-date as the latest scientific developments can make it. *The scorpion is Cuba's only poisonous animal and its sting can take life of a person with a weak heart. * Galileo invested the pendulum clock in 1635. *In the Camaguey town of Jatibonico oil was recently found. Jorge Broderman, eminent Cuban geologist, indicated the existence of oil beds in the Jatibonico region and advised the drilling which has given such promising results. The farm on which the strike was made is called Juan Criollo (Native John). This is a symbolic name which may be a good omen to this first Cuban oil well, whose tower, 130 ft. high, shows from far-off how far this enterprise which will obtain great fame shortly has gone. *In the Museum of Natural History in New York an egg 20" around was on exhibition until recently. This egg, the size of eighty hen's eggs, was acquired about 1910. It came from Madagascar where the natives called it "The Egg of the Flying Elephant", their name for a species of roc, now extinct and known by the scientific name of "Aepyornis Maximus". In spite of the scarcity of certain foods during the war, no one suggested eating the egg since it was laid some 450 years ago.
*Every year on the second Sunday of May Cuba celebrates Mother's Day. On that day most men wear a flower in their buttonholes. A red flower represents a living mother; those whose mothers are dead wear a white flower. *The black-headed seagull, a bird well known over London, where it abounds, is a great voyager. Some years ago, on of these birds was killed flying into a high-voltage electric wire; it had a ring on one leg which showed that it had been in Rositten, Germany, 18 months before. The distance between Rositten and London is about 800 miles. *Colon's Cattle Fair, an annual feature of this town, has just closed. The fair was visited by thousands. The most important breeders of the island were represented, Don Pedro Suarez Delgado with his Holsteins, Dr. Carlos Garcia Hernandez with his Santa Gertrudis and Brown Swiss, Celso Gonzalez Hierro with his Cebus, and Adolfo Mendez Diaz with his thoroughbred horses. The cattle fairs
Page 6
Fundador Brandy Advertizement
are notable not only for the animals shown which are worthy of admiration and show quite well the progress made by Cuban breeders but also for the cordial rivalry between the breeders themselves, each one perennially pointing out to his competitors the undoubted superiority of his animals over the other's. *John Galsworthy, famous English writer, once broke a window while traveling around disguised as a tramp, and was given six months in jail. This led him to write his famous work "Justice" which was to bring him even more fame. *Some salmon live as much as 100 years and some have been known to reach 150. *It has technically illegal in England to eat meat on Wednesdays. *More than thirty thousand persons assembled on Sunday, the 2nd of May, in the Grand Stadium of Havana for a solemn Mass in commemoration of the fiftieth anniversary of Cardinal Manuel Arteaga's ordination as a priest. His Eminence, Cardinal Archbishop of this city, was presented with a miter and a chalice and later sang a Pontifical Mass assisted by Cuba's highest clergy. Present at the act were President Fulgencio Batista and Cuba's First Lady, Sra. Martha Fernandez de Batista. *John Quincy Adams was America's only completely bald president. *Fish do not close their eyes. *When you see a monkey scratching another one, don't believe that he is looking for fleas as most people think. Actually the monkey is looking for small pieces of salt
Page 7
PHOTO of National Capital
Willie's Restaurant & Cocktail Lounge Advertizement
Canadian, American and Cuban teams. Cuba's taking part in this International League makes for not only good baseball but for good international relations. * The heavier nucleus, the greater number of electrons in an atom. These electrons arrange themselves in planetary orbits around the nucleus. * The diamond is the solid with the highest index of refraction; this is what gives it its sparkle, and incidentally its high price. * The microbe that causes tuberculosis was discovered by Koch in 1882. * Famed Cuban boxer, Kid Gavilan, world welterweight champion, is trying his utmost to become a dancer. The Kid gathered a group of show people and whipped up a number which has put on at the Marti Theater and at the Palette Club. The Kid was applauded but rather as Cuba's top boxer than as a dancer; the rest of the group drew little applause and box-office returns left much to be desired. Will the Kid abandon the ring as did Sugar Ray Robinson to take up dancing for good? * There is a stone in a German river with a sign that reads: When this sign is under water, do not ford the river here. * Mysterious East
Page 8
PHOTO of Varadero Beach
Vat 69 Advertizement
Department: In China shoes are polished with white polish. They put on their hats to greet each other and when two Chinese meet each one shakes hands with himself. When they go riding, they place their heels in the stirrups instead of their toes. The needle of their compass indicates the south, not the north. The Chinese woman wears pants; the man skirts. They prefer the seeds of the melon to its flesh.
White is their color of mourning and when they go rowing they face the bow of the boat left behind when sweat evaporates. * In Munich, Germany, various public baths were opened in 1911. These baths were for –dogs! * The division of the hour into sixty minutes originated in Babylon. * In Cuba people talk about two things: politics and baseball. These are passionate topics leading quite often to violent discussions. The baseball event now occupying the attention of the local fans in the International Triple A Series. This league now includes
Page 9
Cuban Aviation. One of the most original and difficult to construct electric signs in Havana has just been set up on its modern office building in La Rampa commercial district by CIA. Cuban de Aviacion. On a huge masonry structure overlooking O Street and visible all the way down 23rd Street, skilled craftsmen have painted a gigantic map of Europe and America on which the neon lights trace the international air routes of the flights served by CIA. Cuban de Aviacion. This sign has widely attracted the public's attention due to its novelty and has contributed to a great extent to the attractiveness of Vedado's up-to-date La Rampa section.
Herman's Store Advertizement
Page 10
CAMAGUEY
"Beautiful Camaguey...
Fortunate refuge..."
PHOTO of Ignacio Agramonte Monument, Camaguey
Each Cuban province has its own features and traits, setting it apart from the others; Pinar del Rio, with its abrupt nature. Its swarthy pine groves, its brook-crossed fields and swelling palms; the almost sacred land of Oriente, drenched in the blood of Cuba's patriots, crowned by the Sierra Maestra; Las Villas, with the enormous steppes we call the Great Plains of Columbus, and its man bustling cities; Havana, with its green hills and fields, its orchards and cane brakes; Matanzas, its skyline pierced by the chimneys of sugar mills, a sea of cane, the distant horizon broken by the purple peaks of the Pan and Palenque; and finally, Camaguey, the Cuban Pampa whose is broken only by the Cubitas and Najasa sierras, with its teeming cattle farms and its enormous distances, the highway stretching out in an endless straight line.
There are two things that always surprise the newcomer to Camaguey: The notion held there as to what constituted distance, both in space and time, and the esteem
Page 11
Rancho Luna Advertizement
both practical and romantic, given to comfort and wealth there.
Camaguey, a land of hard work and constant activity, is the land of Cuba's rich. The old-established rich, never the new rich. One is simply rich there, without his wealth necessarily implying superiority over anyone.
It is a common sight there to see, at the end of the day, the men returning from their work on their farm and estates, dressed in linen guayaberas and high boots, with their straw sombreros and revolvers on hip, ready for their bath and shave. These are the same men that shortly before we left on the French Riviera, on the boulevards of Paris, on New York's Fifth Avenue, in Washington's Rock Creek Park; the same men whom we last saw in faultless evening clothes, at the Casinos, in the concert halls, in the opera houses. The same men which whom we discussed at length topics of art, of literature and music, with whom we talked about horse races and the condition of the Stock Exchange.
Now they have returned home to attend to the sugar crop, or to fatten and sell their cattle, to inspect their factories and business. And they wear their work clothes with the same ease and mental elegance with which they lived an intense social life such a short while before, the same leisurely life to which they will soon return.
That is what the Camagueyan is like, what he has been like for centuries and will always be like. And so, too, are the women of
Page 12
PHOTO Typical Patio in Camaguey
Hotel Vedado Advertizement
Camaguey. The beautiful women of the dark eyes and long lashes, of the fairest, healthiest and most ivory-like complexions in the world, the women who never age. An old Camagueyana is like a hothouse rose: the blossom is fully open, the color perhaps a little less vivid, but the perfume as fresh as ever and the petals smoother than before.
Camaguey is a beautiful tropical city. Its winding old streets, kept immaculate and in perfect repair, are bordered by ancient houses, massive and with big windows, with ample coach-houses now converted into garages, with overhanging eaves that shade the sidewalks and protect the passerby. The stores are fully stocked with all that money can buy. The hotels are attractive and the restaurants offer delicious meals.
The Streets in the newer parts of town are modern sts., lined by modern houses with lushly blooming gardens; and the shady walks invite one to stroll down them to the ancient churches or to the cool, colorful gardens of the Casino Campestre.
Page 13
PHOTO San Francisco Church, Camaguey
H. Upman Cigars Cigarettes Advertizement
There are many clubs in Camaguey where men and women gather to talk, to play chess or poker or canasta or dominoes, in the drowsy afternoons and pleasant evenings. Exclusice [Exclusive] clubs, professional clubs, clubs for workers...
One cannot see Cuba without having seen Camaguey. And to visit Camaguey at St. John's Tide (June 24-29) is to see one of the most interesting regional fiestas in Cuba, a truly unforgettable spectacle.
Four days of interruption of all business, of peace and quiet in the commercial world. Four days dedicated to general merrymaking. Certainly, the banks have their doors open a few hours a day but almost no one goes in. Courts suspend trials, doctor's waiting rooms are empty.
The streets are decked out with coconut fronds, for shade and coolness, for those days are spent on the streets, strolling, dancing, making music, singing serenades, watching riders and floats go by, eating and drinking at all hours, along with everyone else, without cares or worries... Because we are having ourselves a fine "San Juan's...because we are in Camaguey...
Page 14
MIAMI:
A PARADISE AT OUR DOORSTEP
PHOTO Aerial View of Miami Harbor
To a great number of Americans, a vacation in Miami stands for the achievement of their highest ambition. In their shops, or their farms, in their offices, many Americans dream of Miami as a sort of Mecca, as the temperature in Wisconsin or Maine, New York or Illinois, drops to levels almost unbearable by humans, or climbs to heights that make a change of climate and scenery a must.
Whether it be hot or cold elsewhere, the climate of Miami attracts with its promise of blissful comfort. The peerless first city of Florida is to many a sort of obliging and understanding sweetheart, exclusive and universal at once. In Miami, those who came driven by the frigid northern blasts find
Page 15
PHOTO Vacationist Sandy Pendrey strums sea-chanteys from her precious perch atop one of the colorful sun-shades that dot Miami Beach


PHOTO Docked fishing boats wait for the modern Izaak Waltons who have chartered them to come aboard. Offshore and deepwater fishing is one of Miami Beach's most popular attractions.


Hotel di Lido Advertizement
Page 16
PHOTO Crandon Park, a few minutes away from downtown Miami.
Raul Lujan's Tours Seeing Havana Advertizement
warmth; in change, to others it a cool oasis, a refuge from the blazing heat of summer.
For the Cuban, who enjoys an ideal climate the year round, Miami offers a change of atmosphere, a different way of living even though but for a few days.
A trip to Miami is, to the Cuban, the most economical form of voyaging abroad. The price competition among hotels has the happy result of making a trip there a proposition that will not hopelessly dent the most modest Cuban budget, whether in summer or in the winter.
To list all of Miami's attractions would be to compile a catalog of everything our civilization has to
Page 17
PHOTO Here we see pretty Jackie Walker, hard at work loafing as she enjoys Miami Beach's golden sands on her well-earned vacations.
Bambu Club Advertizement
offer even the most sybaritic of mortals.
Miami is, in a manner of speaking, a smaller edition of New York, if New York, in addition to its infinite number of attractions and surprises, enjoyed better weather, had a clearer sky, and wore a happier face.
The comfort of American living at its most gracious–free from all the blemishes–is what Miami offers: Natural gaiety, joi de vivre, an ingenuous sensuality, light, color and harmony.
Page 18
Ember' Restaurant Advertizement
PHOTO Framed between palm trees, the offices of Cuban de Aviacion are a piece of Cuba in the heart of Miami
PHOTO Bahia Honda Bridge on the Overseas Highway
Page 28
"
MISS CUBA"
PHOTO Miss Israel 1954
PHOTO The first Miss Universe, Armi Kuusela of Finland, is crowned by Piper Laurie, Universal-International actress.
There in a enormous amount of eagerness among Cuban girls to aspire for the title of "Miss Cuba" and represent our country at the International Beauty Pageant at Long Beach, California, where "Miss Universe, 1955" will be elected.
CIA. Cubana de Aviacion, desirous as always of increasing Cuba's fame and knowledge of the Island abroad, will sponsor the election of the Cuban girl who will take part in the contest to be held for the third year, organized by the city of Long Beach.
Christine Martel, a glamorous French girl, is the current "Miss Universe". Shortly after her election she married a wealthy young American.
The girl, whose age must lie between 18 and 25, who is named "Miss Cuba" will go on to the principal contest in California, on July 15. "Miss Cuba", of course, will have all her expenses paid. The organizers and sponsors of the
Page 29
PHOTO First contestant chosen to represent her country in this year's Miss Universe Beauty Pageant is twenty-two-year-old Ana Moreno, selected Miss Uruguay after competing in the finals held in Montevideo. Miss Moreno is a fashion model who speaks four languages and has appeared in several Mexican movies.


PHOTO Edward G. Robinson chats with Ayten Akyol (Miss Turkey), left and Christine Martel, representing France and alter chosen Miss Universe, 1954, during the dinner given by the star's studio in honor of the sixty-eight beauties from twenty-six nations attending the international beauty contest held yearly at Long Beach.
Pageant have set aside more that $50,000 to underwrite the parades and other events of this spectacle.
The lucky girl selected "Miss Universe" will receive many prizes. But undoubtedly the most desireable [desirable] one is that offered by Universal-International Pictures: a six-month contract with the studio at $5,000 a month with an option for extending the contract to seven years. The two runners-up will also receive contracts.
Needless to say, Miss Cuba will travel in style, staying at the best hotels. During her stay in California a car will be placed at her disposal, and she will receive a generous allowance for incidental expenses.
Page 30
PHOTO Kinuko Ito (Miss Japan) gets a warm welcome from film stars Piper Laurie and Jeff Chandler upon arrival at Universal-International Studios which hosted 68 world Beauty Queens at dinner and studio tour.
Shell Gasoline Advertizement
Page 31
PHOTO Signing of the contract which gives CIA. Cubana de Aviacion sponsorship of the local contest to elect "Miss Cuba" who will compete for the title of "Miss Universe" at Long Beach, California, next July 15. Seen in the photo are signers Eusebio Delfin, General Manager of Cubana, Hugo May Jr., representing Catalina Swim Suits, and Ramon Garcia of Universal Pictures.
Miss Cuba will be chosen from among the six provincial Queens who will be elected at preliminary contests. A final selection will take place in Havana, and the girl named there will represent Cuba at Long Beach, where the jury will decide on who is "Miss Universe, the most beautiful girl in the world".
In the local eliminations, provincial as well as national, contestants will wear traditional Cuban clothes, evening gowns and bathing suits.
The election of Miss Cuba will be one of the events of the summer; interest is already growing among local girls at the chance of trying for the coveted title of "Miss Universe", a chance brought them by CIA Cubana de Aviacion.
Page 32
MOVIE NOTES
PHOTO [Veronica Lake]
PHOTO [Girl sunning on beach]
DAVID O SELZNICK may soon return to production in Hollywood studios. Three important studios have offered to finance his pictures in his own innimitable [inimitable] style. Selznick confirmed the rumor in his Palm Springs retreat, saying that the best offer to date was from Warner Brothers who want him to produce Broadway's Farewell to Arms". However, Selznick has home ideas of his own, one of them being a musical version of his greatest box-office hit, "Gone with the wind"...VERONICA LAKE is back but not in Hollywood where producers think she wants too much money. Veronica is preparing a tour of Florida where she will dance and sing at nightclubs...SARITA MONTIEL will come to Havana to make two movies as well as to do personal appearance work in Santo Domingo, Puerto Rico and naturally Cuba...A Viennese firm has started making a picture on the life of Adolf Hitler to be called "The Last Act"...Young Oscar winner AUDREY HEPBURN is rumored to be engaged to actor MEL FERRER. There is a talk of a possible marriage after they wind up their present work on Broadway...MARILYN MONROE said she was not expecting a baby, not in the near future at least, but that she hoped to have one because she and Joe want as many little DIMAGGIOS as possible...JOHN HALL and FRANCES LANGFORD have separated after almost sixteen years of marriage...ANN BAXTER is preparing to go to Broadway. She says that she has wanted to return to the3 great White Way for a long time, and was only waiting for the right role to come along...On the other hand ROSALIND RUSSELL after two years with the hit show "Wonderful Town" which has taken in more than three and a half million dollars will leave shortly for Hollywood to do a musical in Technicolor, budget for which has been set at two and a half million dollars...JACK PALANCE flew to Rome to speak to RO-
Page 33
PHOTO [Jack Palance and Audrey Hepburn]
PHOTO [possibly Ann Baxter]
BERTO ROSELLINO...He wants Miss BERGMAN'S husband to direct a picture about auto racing called "The Streak", as well as to take part in at the wheel of his racer...BURT LANCASTER, now producing "Veracruz" in Mexico, will be one of the principal players in the film version of Tennessee William's "The Rose Tattoo", to be produced by Hal Wallis...The Williams play has been the subject of many proposals to film it for over two years but it seems as if it will now be made with ANNA MAGNANI as the heroine and PIER ANGELI as her daughter...VITTORIO DE SICCA is directing a new picture made up of short episodes. The script is by GUISEPPE MAROTTA. Cezare Sabattini did the screen play of the book entitled "Oro di Napoli"...NINI MARSHALL will come to Cuba to make "Una Gallega en la Habana" in which famous Cuban comedians GARRIDO & PIÑEIRO will co-star...GREER GARSON is following INGRID BERGMAN'S example and has just postponed making a movie picture to
Page 34
PHOTO [Un-captioned picture of a Cuban Chorus Girl]
Grant's Whisky Advertizement
rehearse "Joan of Arc," the play which Miss Bergman did in Italian opera houses. Greer will open in this modern opera this fall in San Francisco... GABRIEL GUAJARDO, brother of the man who killed Emiliano Zapata, is suing 20th Century-Fox for several thousand dollars for "having portrayed my brother in the picture as a vile killer. He killed him, but not that way"..SILVIA PINAL and ARTURO DE CORDOBA left for Mexico after finishing "Stranger on the Staircase" In Havana.
Page 35
HAVANA BY NIGHT
PHOTO Alexander and Martha Castillo (Montmartre)
PHOTO "Rodney Scope" showgirl Nora Ossorio with one of the Rodney dancers (Tropicana)
PHOTO Mercedes and Manolo de Triana (Ali Bar)
Rodney's latest production in TROPICANA, "RodneyScope", is a hit. The costumes and magnificent choreography as well as the novel staging and illumination have made it one of Rodney's most popular productions.. Toña la Negra, famed Mexican singer whose debut was announced by TROPICANA for the first days of May, cancelled [canceled] her contract. In view of the extraordinary succes [success] achieved by "Rodney-
Page 36
PHOTO Hector del Villar Dancers (Bambu)
PHOTO Orlando Vallejo (La Campana)
PHOTO Benny More and Olga Guillot (Montmartre)
PHOTO Three of the de la Rosa group with Rolando and Bertica Serrano (Tropicana)
Scope", the management extended the run of this production which stars Italian singer Pino Baratti with dancers Leonela Gonzalez and Henri Boyer at the head lf the chorus line. In addition, the show at TROPICANA stars the Orlando de la Rosa Quartet, shortly to leave for Mexico to work at the ASTORIA, and mambo dance team of Rolando and Bertica...For the 16th of this
Page 37
PHOTO Leonela Gonzalez and Henry Boyer (Tropicana)
PHOTO A scene from "RodneyScope" (Tropicana)
PHOTO Sara, one of the de la Rosa Quartet (Tropicana)
PHOTO Lavinia and Ibrahim (Pennsylvania)
month Rodney has announced the opening of another production, to be called "Mr. Babalu". The show will be built around Miguelito Valdes, Afro-Cuban singer who with his orchestra has been a headliner in American show business for several years... MONTMARTRE, vying with TROPICANA for attention of the "la-dees and gentlemen"
Page 38
PHOTO Marta Velez (Tropicana)
PHOTO Manteca (Tropicana)
PHOTO Luis Carbonell (Montmartre)
PHOTO Carlitos Pous and Zoila Perez (Montmartre)
opened "Solar", Mario Aguero's production at the beginning of last month. The book by Juan Herbello hasn't revolucionized [revolutionized] the technique of putting on shows in night-clubs but it has taken for the first time the typical Cuban sainete or folk play to the night-club stage. Some of television's top names are to be found in the cast; among others, Guillermo Alvarez Guedes, Rosendo Rosell, Zoila Perez and Luis Carbonell... Benny More, "The Barbarian of Rhythm, at present Cuba's top name in show business, was signed by MONTMARTRE to star in this production. Sharing the applause with him are popular singers Olga Guillot, dancer Carlitos Pous, the danzon-team of Elipidio and Margot, and Alexander and Martha Castillo, who left TROPICANA for MONTMARTRE to substitute for Nancy and Reny, unable to take part due to Nancy's fractured ankle... Benny More, besides appearing
Page 39
PHOTO
Norma Naranjo (Bambu)
PHOTO
Rosita de Cadiz (Bambu)
PHOTO
Cary and Rolando (Colonial)
PHOTO
The Lago Sisters
in Montmartre, does two shows nightly at the ALI BAR, popular night-club on the outskirts of the city, one of the few places where one is admited [admitted] without a coat. On the bill with him are the Golden Sisters, who will soon leave for Mexico, and Spanish dance team of Mercedes and Mario de Triana. Benny More does not work in nightclubs on week-ends, when he fills the dates his orchestra has booked for private dances in Havana and the interior of the island...On those days, ALI BAR stars to bolero singer Orlando Vallejo and "Puntilla", ranked among the best mambo and guaracha vocalists...SANS SOUCI closed its door six weeks ago and has not reopened yet. The show that was being put on there transferred wholesale to Miami where it is playing theaters and nightclubs; it is announced that the show has been booked for New York...Rolando and Bertica Serrano, fixtures at a TROPICANA, dance there nightly and have featured parts in the Rodney productions...Martha Velez, one of TROPICANA'S most beautiful show girls, is a
Page 40
PHOTO
Miguel Angel Ortiz (Bambu)
PHOTO
Fina de Villa and Angel Salas (Bambu)
PHOTO
Mayra Freire (La Campana)
candidate for the title of Mis Cuba; elections for the lucky girl who will represent Cuba in the Miss Universe beauty contest, will be held shortly...As soon as Alexander and Martha Castillo wind up their contract at MONTMARTRE they will leave for California to join Sonja Henie an her Ice Show on a tour of the United States and Europe...BAMBU, the cabaret on the Rancho Boyeros Highway, has begun to put on productions. In charge is Hector del Villar who staged the dances for Tongolele as well as innumerable numbers for the Lirico Theater in Mexico City. On the bill at the Bambu are Spanish dancers Fina de Villa and Angel Salas, sin-
Page 41
PHOTO The Orlando de la Rosa Quartet (Tropicana)
PHOTO Rocio, Dorca and Idania (Bambu)
PHOTO Golden Sisters
er-MC Miguel Angel Ortiz, the dance trio of Idaña, Dorca and Rocio and popular bongosero "Manteca"...Hector del Villar is preparing a new revue to be called "The Four Seasons" which will star Norma Naranjo and Spanish dancer Rosita de Cadiz...Rhumba team of Kary and Rolando are still on the COLONIAL, the wharfside [wharf side] night-club where they have had a three month's successful run. The Lago Sisters Trio left for Mexico to fill their contract at the Astoria Cabaret... Salvador Levy, Cuba's Mr. Television, received a bid from Xavier Cugat to join his orchestra on a swing through the United States and Europe... The popular old-time cabaret LA CAMPANA reopened under new management. A great show was represented at the opening with Rolando Ochoa as MC, the trio of Estela, Litico and Mario, just back from the United States, the Aida Quartet, singer Mayra Freire, Tony Lamar and Mary Esquivel, dancer Olga Valladares and a chorus line of cuties... Maruxa and Hector, native dance stylists are still going strong at the PENNSYLVANIA where they opened three months ago.
Page 42
ISLE OF PINES CUBA'S TREASURE ISLAND
PHOTO "...Countryside, silence, sun and tropical sky"
PHOTO "...Isle of pirate adventure stories"
The Isle of Pines is a piece of Cuban territory south of the province of Havana, to which it belongs. The Grand Admiral of Spain, Christopher Columbus, called it The Island of the Evangelist; later it was to become the scene of pirate adventures both in fiction and in fact. Robert Louis Stevenson in his famous novel, Treasure Island, has some hair-raising descriptions of the activities of the pirates on this island.
The history of the Isle of Pines begins on June 13, 1494. Columbus, on his second voyage to the New World discovered here yet another beautiful and almost unpopulated land, one of the riotous vegetation, of magnificent beaches and an ideal climate. The countryside, the silence, the sun and the
Page 43
PHOTO Estuary of Isle of Pines, where Columbus is supposed to have passed.
Hotel Puerto Antonio Advertizement
tropical sky form a true terrestrial paradise.
Isle of Pines filled its discoverers with emotion. It was in island, the Grand Admiral noted in his dairy "...where I was well received by the inhabitants of it; and so well we were provided with water, fish and fire wood, that we lacked for nothing".
The departure of the visitors, as Columbus sailed on towards his feverish illusions of reaching the Indies, caused the Island to sink back into silence, and Spain to forget about it. Years after its discovery, new visitors named it the Isle of Pines. A historian of the time wrote: " found her greatly unpopulated; I saw her with 40 neighbours [neighbors]; now 11 more, without mayors, without rulers, without the order of a town". At its first census, the Is-
Page 44
La Campana Night Club Advertizement
land had a population of seventy-six.
The count of Ricla, then Captain General of the Island of Cuba, intended settling it in 1773, but abandoned the project due to his return to Spain. Later, General Dionisio Vives, Governor of Cuba, set up the first military outpost on the isle, "in order to ward off any attack that Bolivar's insurgent forces might make on that part of his territorial command."
Famous pirates such as Hawkins, Drake, Baskerville, Morgan and others used its forests as a hideout while they took on supplies for their raiding expeditions across the Caribbean. It was on the Isle of Pines that the Spanish squadron smashed Drake's pirate fleet practically wiping out the freebooters who long had terrorized the ships leaving Cuban ports bound for Spain.
Today, the Isle of Pines has a population of nearly twelve thousand.
Its area is 1144 square miles, being the largest of Cuba's island dependencies. At its nearest point it is thirty-three miles from the mainland and sixty two miles from the port of Batabano.
The gulf separating it from the mainland is fairly shallow, varying from fourteen to twenty-eight feet, and many sponge banks are found in its waters.
The economic development lies
Page 45
Matusalem Rum Advertizement
mainly in its agricultural and in its mining industries. There is a flourishing citrus industry based chiefly on the export of grapefruit. But one of the most promising sources of wealth is undoubtedly the great marble quarries located near the capital, Nueva Gerona. Gerona, the center of all activities, is a town on the banks of the Las Casas River. It is surrounded by high hills, due to which a cool breeze continously [continuously] sweeps it, lessening the tropic's heat.
Cuba's Model Prison is located on the Isle of Pines. This prison is considered one of the best insofar as the application of modern penological theories is concerned.
Isle of Pines has wonderful spas and beaches. One of its baths that deserves to be singled out for its medicinal worth is that of Santa Fe with its radioactives [radioactive] waters.
A land full of potential riches and a hope for bright future, this Treasure Island, once the refuge of murderous outlaws, is today possibly the most peaceful part of Cuban territory.
On its hills and green fields the centuries that have passed since Columbus first landed rest quietly. Nothing has changed on Isle of Pines.
Page 46
AIRGUIDE VISITS MONTMARTRE
PHOTO Elpidio and Margot, the greatest interpreters of the "danzon"
PHOTO Scene from "Solar"
Montmartre, America's most luxurious night-club. That's where AIRGUIDE went avisiting a few nights ago. In our last number there appeared a note about the preparations being made for the opening of the new show "Solar" (The Tenement), and being eager to give our readers a complete report on it that's where we found ourselves, in the very popular cabaret on Vedado's P. Street.
Its large and well mounted games
Page 47
PHOTO Sonia Calero and the Alberto Alonso Dancers
Banana Cordial Advertizement
room was crowded; its dance floor, full of couples gliding to the smooth music.
We found Montmartre's atmosphere very agreeable indeed. The carpeting, the illumination, the superb decoration of the place, the unobtrusive attention of the employees, the delicious meal we were served as soon as we could tear ourselves away from the bar, everything helped to make us feel quite satisfied. We almost forgot we were supposed to be working, after all.
At ten-thirty what everyone was waiting for began. As if by magic, the dance-floor began rising, changing into the stage, the stage on which on other occasions we had seen some of the most outstanding figures of show business; Phil Spitalny and his All-Girl Orchestra, the unforgettable Chavales de España, Cab Calloway, the Monseigneur
Page 48
PHOTO "...We almost forgot we were supposed to be working" [dining and dancing]
PHOTO "...Its large and well mounted games room was crowded" [gambling table]
Violins, and many others of happy memories.
And we saw "Solar". And we were left convinced that once again Montmartre has achieved a hit. "Solar" is one-hundred percent a Cuban show. Its theme, the very typical tenement house whose name was given to the production. Its music, the native rythms [rhythms] of the danzon, danzonete and guaracha. Its stars, Olga Guillot, Rosendo Rosell, Benny More, Elpidio and Margot, Martha and Alexander and the best of the Cuban dance groups, that of Alberto Alonso, with its featured dancer, Sonia Calero.
AIRGUIDE warmly congratulates the management of Montmartre for having achieved yet another attraction for the tourists who visit Cuba, as well as an extremely pleasant way of spending an evening for the Cuban who seeks an agreeable atmosphere in which to have a nice time.
Page 49
CRIC Sanatorium Advertizement [Topes de Collantes Sanitarium]
Page 51
Garcia's Distillery Co. Advertisement
Page 52
Los Napales Bar & Restaurant Advertisement
Page 53
Johnny's Dream Club Advertisement
Page 57
Tourist Supplement
Page 60
La Zaragozana Restaurant & Bar Advertisement
Page 71 [inside back cover]
Tropicana Advertizement
Back Cover Page 72
Hotel Comodoro Advertisement
End of Page
---
Copyright 1998-2014 Cuban Information Archives. All Rights Reserved.