CUBAN INFORMATION ARCHIVES
DOCUMENT 0222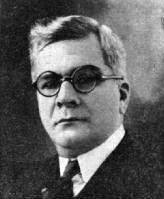 [ Main Site Menu ] [ Back to History Menu ] [ Index to Site Documents ]
---
History of
Cuba's Central Highway
---
[Reference: OFFICIAL BULLETIN, Cuban National Committee,
National Committee for the Reception of the United Spanish War Veterans
Number 2, Thirtieth National Emcampment, U.S.W.V., Oct. 7 to 12, 1928
Havana, Cuba]
---
Carlos Miguel de Cespedes
Secretary of Public Works
Cuba's Dynamic Genius
Builder of the Central Highway
MAP of Central Highway
An outstanding feature of the administration of President Gerardo Machado is the construction of the "Carretera Central," the new Central Highway that will traverse Cuba from end to end. This great artery of national communication will unite the principal cities of the island. With its lateral it will not only open traffic among the six provinces but will provide a desirable trade within the provinces themselves. Communities that have remained stationary or backward for lack of egress will now develop and flourish.
Great as it is, this highway construction forms only part of a pretentious administrative program, which includes virtually all public works and institutions. Our towns are to have adequate waterworks, hospitals, asylums and schools. Homes will house the aged and needy, child welfare will receive close attention, agricultural and farm help will be provided.
The Central Highway–its importance merits the capitals–is being built to a width of six meters (the meter is 39.37 inches) between cities, with a dirt pathway on each side one and three-quarters meters wide. Portions passing through towns and cities are widened to eight meters exclusive of sidewalks.
Through its entire length the highway has a concrete base .15 meter (nearly six inches) thick. This is covered with the asphaltic paving material known as "Warrenite Bitulite." Through principal cities this is substituted by granite blocks.
The Central Highway is being built by two entities. Warren Bros. Co., of Boston, Mass., has the contract for Pinar del Rio, Habana, Camagüey and Oriente provinces, while the Compañia Cubana de Contratistas (Cuban Contractors Co.) has Matanzas and Santa Clara provinces. Between them there reigns that spirit of friendly rivalry as to which best can work and best can serve. Needless to say both are giving ample proofs of their efficiency and activity.
Steel bridges along the highway are being constructed under the supervision of the H.C. Nutting Co., of Cincinnati, Ohio, when built in the United States and by an engineer of the Department of Public Works when fabricated in Cuba.
In all concrete work government inspectors view the mixing of the materials and test the product, which must conform strictly to requirements as to strength and composition. Division chief engineers are obligated to inspect all construction before acceptance and require strict conformity to specifications.
Work is now progressing on 23 or the 32 sections into which the Central Highway is divided. All grading will have been completed by the end of this year with the prospect of early completion of the highway, parts of which, like the popular Havana-Guanajay stretch–are already open, giving rich promise of the future Cuba.
To show how rapidly the work is advancing it may be explained that of the 383 bridges, culverts, drains and similar structures to be built, 213 have already been finished, leaving only 170, all of which are under construction.
When the great Cuban road is completed it will constitute one of the world's most picturesque highways, passing through a bewildering variety of tropical scenery and flora. The incomparable beauty of the "Pearl of the Antillas" becomes of easy access!
Of Carlos Miguel de Cespedes, Cuba's dynamic Secretary of Public Works, little need be said. His genius is changing the face of the Republic. The "dreams of Cuba's Jules Verne" are being realized, to the joy of his friends and adherents and to the confusion of his critics.
End of Page
---
Copyright 1998-2014 Cuban Information Archives. All Rights Reserved.