CUBAN INFORMATION ARCHIVES
DOCUMENT 0219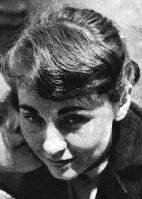 [ Main Site Menu ] [ Back to History Menu ] [ Index to Site Documents ]
---
THE MYSTERY OF CASTRO'S WIFE
Mirta Diaz Balart de Nunez
---
[REFERENCE: Untold Story: Fidel Castro, Vol 1 No. 2, September 1960, pages 42-43]
MEMO FROM THE PUBLISHER [Untold Story]
The Editors of this magazine have tried to present all sides of Castro, the man, the rebel, the conqueror. We were impressed with his philosophy of reform, not so impressed with his carrying-out of justice. We have grave misgivings concerning his reputed alliances with Russia. But we feel that each reader must get the whole picture for himself before making any personal judgment. And here it is, for the first time, the whole UNTOLD STORY of Cuba's Fidel Castro.
Update on whereabouts of Mirta Diaz Balart de Nunez
---
page 42
THE MYSTERY OF CASTRO'S WIFE
On October 12, 1948, Fidel Castro married Mirtha [Mirta] Diaz Balart de Nunez, a student in the Faculty of Philosophy at Havana University. Castro was then in the last stages of law school; Mirtha was a native of Banes, the daughter of a general, and her brother was to become one of Batista's officers. They were married in a Roman Catholic Church in Orient Province, not far from Castro's birthplace. On their honeymoon in Miami, Florida, Fidel was forced to pawn his watch and other valuables. His financial difficulties were relieved, however, when he obtained money from his family in Cuba. He retrieved his property and prolonged the honeymoon.
On the morning of Castro's release from the Isla de Pinos Prison after the amnesty for Moncada, his wife was nowhere to be seen. She later divorced him while he was in exile in Mexico in 1955.
Her brother
Raphael [Rafael] Diaz Balart
; an ardent Batistiano, who was undersecretary to Ramon Hermida, a minister of the interior to Batista. His resignation was forced after the publication of a letter he wrote to Hermida in which he censured him for a talk he had with Castro in the Isla de Pinos Prison.
Fidel and Mirtha Castro had one child, a son, Fidel [Fidelito] Castro Jr., who was born September 1, 1949. The picture at the right, (one of the few extant shots of Mirtha)
[
page 43 PHOTO of Mirtha and Fidelito
(photo credit to George Robert Little, Jr. 1956)]
shows mother and son embracing during a reunion in Mexico City. Mirtha had claimed the boy had been taken from her by Castro's sister who, in turn, claimed the boy had been kidnaped to bring pressure on Castro to end the revolution. Mirtha denied this and the Mexican authorities dropped their investigation when they were satisfied this was a private not a political matter. The boy is now with Castro in accordance with Cuban law which states that children of divorced parents stay with their father.
Mirtha is remarried and living in the United States. Exactly where she is, if she sees her son, whether she has any more children is a mystery to everyone but intimate friends.
---
[An update on Mirta or Mirtha was provided by the Miami Herald on October 8, 2000 in an article headlined CASTRO'S FAMILY by Juan O. Tamayo.
"... his 1948 marriage to Mirta Diaz-Balart, and their son, Fidel ``Fidelito'' Castro Diaz-Balart. They divorced two years later."
"... It is Raul, according to two friends of Mirta Diaz-Balart, now living in Spain, who arranges
her occasional visits to Cuba to see Fidelito."]
End of Page
---
Copyright 1998-2014 Cuban Information Archives. All Rights Reserved.