CUBAN INFORMATION ARCHIVES
DOCUMENT 0193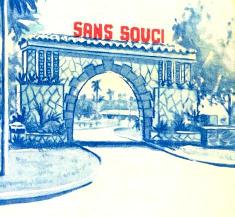 [ Main Site Menu ] [ Back to Entertainment Menu ] [ Back to Tourism Menu ] [ Index to Site Documents ]
---
SANS SOUCI
Havana Night Club & Casino
1957
---
[REF: Cabaret, April 1957, p36]
---
CUBA'S CAREFREE CABARET
Massive injections of money for lavish shows,
elaborate gaming facilities have made
Sans Souci Cuba's top club.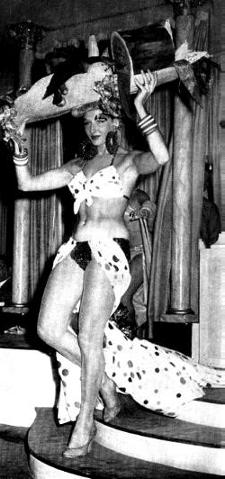 [To see a full size photo, right click and VIEW IMAGE]
[caption] Svelte showgirls recruited from all over world like curvaceous American, Inez Rita, parade in shows at club.
page 37
By Jay Mallin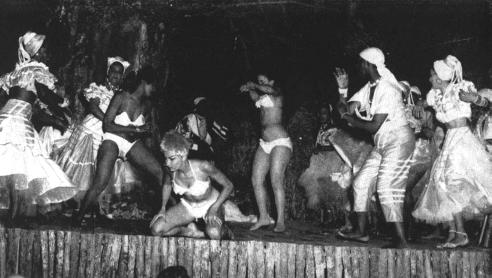 [To see a full size photo, right click and VIEW IMAGE]
[caption] Cuban Voodoo rituals form basis for many shows at Sans Souci, where tourists are given insight into Afro-Cuban traditions.
DURING THE past year a new zest has come into the traditionally gay and openhanded atmosphere of Cuban night life, as Havana, metropolis of the Caribbean, has once again donned her crown as queen of the night life cities South of the Border. New spots have opened, old ones been refurbished, and name stars from the U.S. and Europe have been signed to appear in them in increasing numbers. Not since the days of Prohibition when Havana was a shining haven for revelers from the States with a thirst and the wherewithal to quench it, has the city's night life boomed as much.
Keynoting and setting the pace for the revival is one of Havana's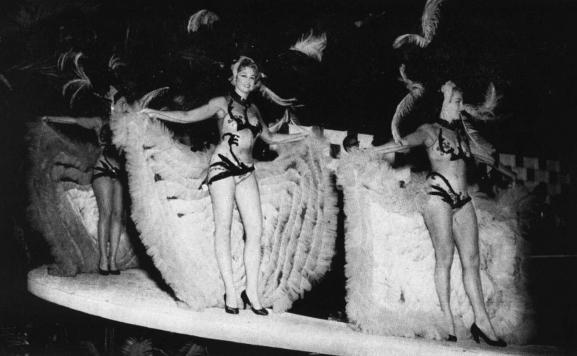 [To see a full size photo, right click and VIEW IMAGE]
[caption] Parading down runway in second part show, girls and costumes show other half of night spot' formula: Follies-type revues.
page 38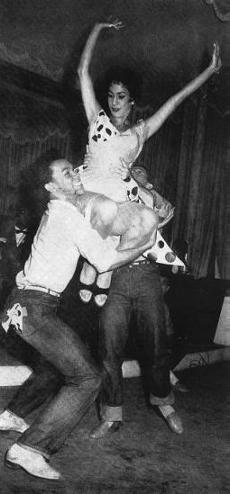 [To see a full size photo, right click and VIEW IMAGE]
PHOTO [caption] Soaring siren, Cara Melo heads Sans Souci dance troupe, specializes in wild, uninhibited dances on native themes. Cara has been eyed by U.S. producers fro Broadway.
page 39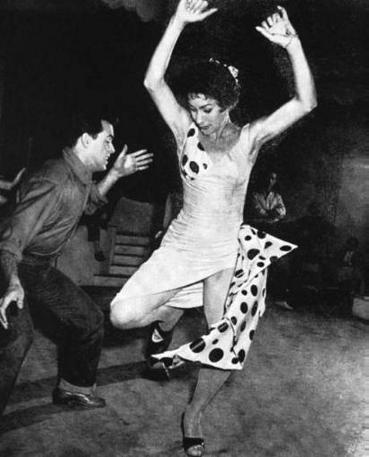 [To see a full size photo, right click and VIEW IMAGE]
[caption] Whirling through wild ballet based on American show dance styles, Cara [Melo] personifies spirit of Sans Souci. She is native Cuban, studied dance there.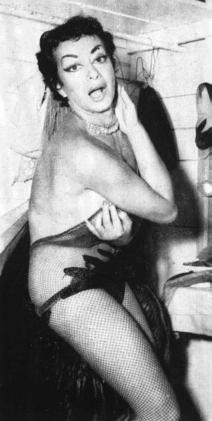 [caption] Backstage, Cara [Melo] hastily changes for exotic number, conversing in machine-gun Spanish.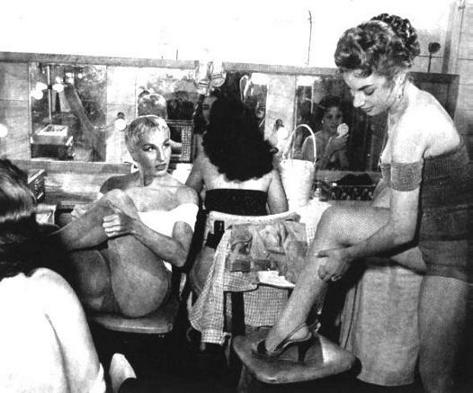 [caption] Dressing room at Sans Souci is busy spot, with showgirls constantly coming and going as huge productions move along on the stage upstairs. Producer Alberto Alonso believes shows should be long, colorful.
page 40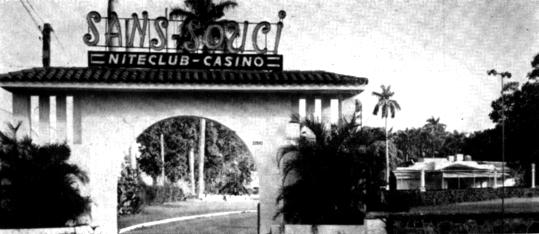 [To see a full size photo, right click and VIEW IMAGE]
[caption] Elaborate entrance lures tourists to club which can accommodate over 3,000 guests. In addition to regular night club features Sans Souci has elegant gambling salon.
oldest, best known and best night clubs, a lush tropical center of outdoor entertainment known appropriately enough as "Sans Souci."
When a debonair French man about town twirls his mustache and recounts for a friend the exploits of the evening before, it's a cinch that somewhere in the conversation the words "sans souci" will be heard. Literally translated, they mean "without care," but common usage has imparted a far greater meaning, implying a good time with gaiety running rampant and a tone of devil-may-care that makes for epic frolic. It is just such an atmosphere that abounds at Sans Souci, where though the club is long-established, there is no trace of old-time operation.
"It's like stepping into a movie set of what Hollywood thinks a tropical night club should look like," remarked one bedazzled visitor who spent an evening and dropped a bundle recently among the moonlit Royal Palms that sway overhead to the whisper of soft tropical breezes.
Reasonably enough, the impetus for the revival typified by Sans Souci is again a crackdown in the States--this time on gambling, and the new management of Sans Souci is, like that of many of the newer enterprises, headed by a noted American gambling figureľ
Lefty Clark
of Miami, onetime operator of some of the Florida vacationland's best casinos.
Clark and his associates are reported to have sunk a cool $1million in refurbishing the club. Set in rural surroundings and architecturally of a piece with an Old Spanish villa, its walls and halls are lined with very modern, American slot machines, and the sing-song chant of the not-so-American croupiers is heard as the gaming tables boom in the casino.
As for showmanship, Clark has demonstrated his talents with a broad and unerring stroke. He has offered retired heavyweight champ Rocky Marciano $350,000 to fight Cuban challenger Nino Valdes at the club, and he has dealt with such names as Marlene Dietrich, Liberace and Susan Hayward, in lining up entertainment for the coming season.
Located seven miles outside Havana, Sans Souci was founded in the days following World War I, when wealthy Americans traveled and splurged. It was one of the most popular places in the world, and never was completely closed down, though Repeal and the Great Depression curtailed its operation as the tourist trade dwindled to a trickle and the only traveling Americans were those with guns on their shoulders.
Lefty Clark
practically rebuilt and also expanded Sans Souci. Today it can seat 1,100 easily. On the few nights when it may rain, there is ample
page 52
room in the main building for the customers to sit indoors.
The gambling salon is entirely indoors. It has the usual tables of roulette, craps, black-jack and chemin de fer (known as "shimmies" in the gambling trade). For big gamblers there is a "money crap game" in which bettors bet against themselves instead of against the house (which simply collects a percentage). (Some Texans liked the game so much that Clark kept it going for them through the night and well into the next day.)
Indoors there is the Nevada Cocktail Lounge, which provides its own vocal entertainment in addition to the show outside.
page 54
There is no minimum in the lounge, although there is a $5 minimum per person at the tables in the outdoor area.
Additional attractions are three alternating orchestras, two shows nightly and "the most complete menu of any nightclub in Havana." And the food is good, too.
A major part of the "million plus" investment has gone into entertainment. For the first time ever in Cuba a succession of well-known entertainment stars have been brought down by a single nightclub. In the months since Sans Souci opened this past December, it has had more name attractions than all the other nightclubs in Cuba have had combined during the past five years.
The inaugural show starred
Denise Darcel
, an eye-filling French mademoiselle with a repertoire of sizzling songs. She was followed by another exuberant French lady,
Edith Piaf
, who gave forth with "La Vie en Rose" and "April in Portugal."
The international trend continued with
Ilona Massey
, whose tzigane numbers were something entirely new in Cuba. Then the U.S. had its day with Cab Calloway, whose uninhibited music was much appreciated by Cubans and Americans alike.
There then followed, at biweekly intervals, a trio of singers:
Dorothy Dandridge
,
Joanne Gilbert
and
Tony Martin
. Martin packed in so many customers that Sans Souci temporarily raised its minimum one dollar.
In addition to the name stars, the nightclub has staged the spectacular shows which have become a trademark of the big Havana nightclubs. The producer is Alberto Alonso, one of the most imaginative men in the business in Cuba.
Alonso's "Bamba Iroko Bamba" is staged at Sans Souci at a cost of $25,000 weekly. Having no less than 100 performers, "Bamba" is, according to Alonso, "the biggest and costliest show ever put on in Cuba." It is built around a colorful Afro-Cuban voodoo theme. ("Bamba" may rival "Sun Sun Babae," the most famous show ever staged in a Cuban nightclub. It was put on at Sans Souci during 1951-1952 and starred a young female dancer from New Jersey named "Skippy.")
Alonso formerly produced the shows at Radiocentro, Havana's equivalent of N. Y.'s Radio City Music Hall. When he was signed up by Sans Souci, he took his own ballet troupe with him, including the graceful and curvy lead dancer, Sonia Calero. (Alonso is the brother of Alicia Alonso, the world-famed ballerina.)
In addition to performers, dancers and singers, and the orchestras, Sans Souci also boasts a 14-voice choir. This is an innovation in nightclubs.
When the new management took over Sans Souci, it not only had to refurbish the nightclub's physical plant, but also its reputation. This had become slightly clouded three years previously during the notorious "razzle-dazzle" affair.
Razzle-dazzle is a country carnival game, employing eight dice and a board, in which the customer has about one chance in a thousand of winning anything. But a glib spiel on the part of the attending croupier convinces the unwary that exactly the reverse is true.
Sometime in 1952 Sans Souci installed a razzle game. So successful was it, that within months virtually every Cuban nightclub had one. The game made as much money for the clubs as all their other games of chance combined: an average of $7,000 nightly.
Because the Havana gambling tables are played mainly by American tourists, it was the tourists who were losing heavily. One American reportedly lost $30,000 in a single night. Another lost $17,000. Complaints poured into the American embassy and into the Cuban Tourist Institute.
The Cuban government warned the night-club operators, but razzle continued. The warning took the form of a five-hour shutdown of all casinos on New Year's Eve, but still razzle continued. The Tourist Institute imported a U.S. gambling expert, Fred Freed, to clean up the casinos, but so much pressure was brought to bear that within a few days of his arrival Freed had to go into hiding. He soon fled the country, and the president of the Tourist Institute resigned.
But the golden flood could not continue indefinitely. The cries against razzle inevitably reached the Presidential Palace, where the unfavorable publicity Cuba was getting was noted, and soon President Fulgencio Batista ordered the police to clean out razzle once and for all. This they did with rapid dispatch. Shortly afterwards eleven U.S. gamblers were deported from Cuba.
So widespread was the effect of razzle that it even made the United States newspapers headlines. A political figure allegedly lost more than $4,000 at the game and paid with a bad check. A suit was filed in an effort to make good the check.
When the new management took over in 1955, it seriously considered renaming the San Souci (possibly to Capacabana or Copahabana), in order to get away from the lingering taint. Finally it was decided, however, that Sans Souci is almost a Havana landmark, its name is a fixture, and the best way to restore it to respectability would simply be to operate it respectably.
End of Page
---
Copyright 1998-2014 Cuban Information Archives. All Rights Reserved.