CUBAN INFORMATION ARCHIVES
DOCUMENT 0133
[ Main Site Menu ] [ Back to Otero Menu ] [ Index to Site Documents ]
---
WANTED for BOMBING
Riverside Post Office
Miami, Dade County, Florida
---
9 December 1975
Case #284969-T
Investigation into the bombing of the Riverside Post Office, 2285 West Flagler Street, occurring on 3 December 1975, in Miami, Dade County, Florida.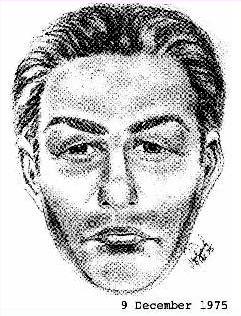 Suspect white male, Latin type, approximately 37 years old, 5'8", 160 lbs., well built. Wearing light blue slacks stained with white unknown substance in the front and a black leather jacket. Dirty looking, unshaven. Spoke Spanish with a country accent. Observed in the area prior to the bombing carrying a package under the jacket.
[The police identified Rolando Otero Hernandez as the person in the above sketch. In document 22 there is a list of other bombs placed on December 3, 1975 with Otero's name attached as the perpetrator.]
Any information, contact Det. D. Benitez, PSD OCB, 547-7508.
[NOTE: Police phone number above is no longer valid]
End of Page
---
Copyright 1998-2014 Cuban Information Archives. All Rights Reserved.