CUBAN INFORMATION ARCHIVES
DOCUMENT 0112
[ Main Site Menu ] [ Back to Masferrer Menu ] [ Index to Site Documents ]
---
TRAINING CAMP of
Maria Soledad ALBA VASQUEZ
---
[Reference: OCB Dade County, Florida file #48903-C]
---
DATE: September 27, 1960
TO: THOMAS J. KELLY, Metropolitan Sheriff
FROM: LT. FRANK KAPPEL, Supervisor, Criminal Intelligence
SUBJECT: MARIA SOLEDAD ALBA VASQUEZ - ADDITIONAL INFORMATION
Subsequent investigation revealed the subject no longer has EDWARD THOMAS PIATKOWSKI in her employ and has dropped him from the dummy corporation known as the Society La Cruz.
As the result of a disagreement over ROLANDO MASFERRER'S sending some of his group to the Comfort Road camp for training with the approval of Mrs. VASQUEZ, PIATKOWSKI broke away from the Society La Cruz.
On Wednesday, September 21, 1960 Mrs. VASQUEZ attempted to rent a large cabin cruiser, preferably a 45 foot twin screw, and capable of making over 30 knots, from the Beacon Marine Service Inc., located at 260 S.W. N. River Drive, Miami, Florida, phone FR 3-6360.
JIM THORNTON, owner of Beacon Marine Service advised Mrs. VASQUEZ he had no such craft available and suggested she try City Pier #5.
THORNTON also provided the writer with a receipt for the rental of the yacht "Surinam" which was secured in the name of E. T. PIATKOWSKI, c/o Kawnair International Aluminum Extrusions, 727 E. DiLido Drive, Miami Beach, Florida. A copy of the rental contract is attached.
A check with the office of R. A. GRAY, Secretary of state, Tallahassee, Florida on September 26, 1960, revealed there is no record of any such corporation. The address given by PIATKOWSKI on the receipt is that of DANIEL VASQUEZ.
The yacht "Surinam" was rented for a period of seven days to be used for a "fishing trip" by "executives of the Kawnair Corporation". PIATKOWSKI subsequently returned this boat to the City Docks on August 16, 1960 in a half sunken condition. There was evidence the boat had sprung a bad leak and THORNTON was advised the "Surinam" was seen near Marathon during the week in question. The damage done to the boat and its fittings was deducted from the $200.00 deposit PIATKOWSKI had put up with Mrs. VASQUEZ' money. The difference of $94.75 was paid to PIATKOWSKI by Beacon Marine by check after he had severed relations with MARIA and DANIEL VASQUEZ.
--------
Page 2
PIATKOWSKI is presently trying to associate himself with another anti-Castro party in Miami.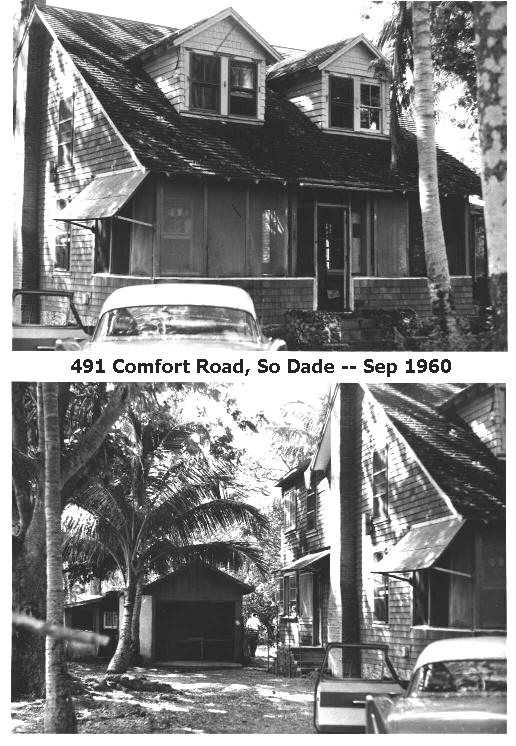 [To see a full size photo, right click and VIEW IMAGE]
Weekly checks are made on the activities of MARIA VASQUEZ and the occupants of the house at 491 Comfort Road, S. Dade.
The following listed twelve men are still living at the comfort Road camp rented by MARIA SOLEDAD ALBA VASQUEZ.
1) *LUIS SUAREZ LEON, W/M, 24 years
2) COMELIO MEDEROS LOPES, W/M, 18 years
3) *MIGUEL ANGEL ESPINOZA COSSIO, W/M, 23 years
4) *DOMINGO NELSON VIDAL PORTERO, W/M, 22 years
5) *ENRIQUE SERGIO HERNANDEZ ACEVEDE, W/M, 19 years
6) SEVERIO JUEVERA VALDINA, W/M, 35 years
7) VINCENTE MONTESINO CANALES, W/M, 21 years
8) JOSE FELIX GONZALEZ, W/M, 23 years
9) ROSMILIO JIMENEZ POLANCO, W/M 22 years
10) PABLO NIEVES, W/M, 33 years (Not on previous list)
11) RAUL SOTO, W/M, 21 years (Assistant training officer)
12) *RAUL ARANGO, W/M, 37 years (Training officer)
The above five names prefixed with an asterisk were involved in the Key Largo incident, (See case #36026-C). Of the original nine Key Largo incident participants it is interesting to note five are still left at this camp.
The group still uses the name PIATKOWSKI gave the group, the "Lobos".
On a check made of the premises on Monday, September 26, 1960, a faded red 1949 Mercury Sedan was observed parked at the south side of the main building. This vehicle bears 1960 Florida tag 1-59388 and is registered to M. A. SUAREZ of 1338 S.W. 7th Street, Miami, Florida; no record of any want.
Page 3
ARANGO advised at this time that Mrs. VASQUEZ had sent NICHOLAS E. VALERIANI, Juvenile Detective, Miami Beach Police Department to assist him as training officer on the week of September 11, 1960. It was on the fifth day of VALERIANI'S duties at the camp that he was checked by Public Safety Department Lieutenant CROMARTIE and State's Attorney Investigator DAUGHERTY at which time he displayed the Special Deputy card he had been issued for his duties as Civil Defense Intelligence Agent. A copy of Lt. CROMARTIE'S report is attached.
VALERIANI is alleged to be a personal friend of Mrs. VASQUEZ who hired him knowing he was Police Officer and paid him a salary for his training duties.
In view of the circumstances surrounding this type of activity and the repercussions the Director may feel, it is recommended VALERIANI'S Special Deputy Commission be reviewed.
VALERIANI has, at this writing, discontinued his activities at the camp.
ARANGO further stated the premises which house JOSEPH PAULA'S Restaurant at 435 N.E. 1st Avenue and the Paula Hotel at 433 N.E. 1st Avenue are being used as refuge by transient communist associates of PAULA. He is alleged to furnish these facilities until a permanent contact is arranged, not always in this State.
He also stated PAULA could easily be arrested for his bolita operation which is taken to a counting house at midnight on Friday nights in a white Dodge PAULA parks in a lot directly west of the restaurant.
According to ARANGO there is a Communist Agent named JOSE MILIAM DE LA NOVAL who makes his home in California but travels between the west Coast and Florida. DE LA NOVAL is a white male aged 34 who entered the U.S. through Miami in 1954 and has subsequently made many trips to Cuba through Miami. DE LA NOVAL is ARANGO'S cousin.
At this time RAUL SOTO advised of the presence of a D.I.E.R. (Department of Investigation of the Revolutionary Army) Agent who is employed at the Deauville Hotel as a Busboy. He calls himself "EL GALLEGO", his true name is MANOLO GALLEGO.
When questioned about the yacht "Surinam", SOTO stated, "No, it was the Argonaut and it is going to leave for there any day now."
On the evening of Monday, September 26, 1960, a yacht left for Cuba carrying several of the former group from the Comfort Road camp including NELSON TRUJILLO CORREA. This boat and its occupants escaped detection and are believed to be in Cuba at this writing.
Page 4
On Tuesday, September 27, 1960 Mrs. MILLER, Secretary for the Beacon Marine Service contacted the writer and advised that DANIEL VASQUEZ had been at their docks a 11:00 AM and had wanted to rent the "Surinam" again for a period of seven days commencing on Wednesday, September 28, 1960.
Mrs. MILLER told VASQUEZ the boat was still leaking water badly and suggested he try the Miami Boat Rental Company directly opposite them on N. W. North River Drive.
It was also verified Mrs. VASQUEZ had attempted to purchase several rubber landing boats from the Army Salvage Company at 6160 N.W. 27th Avenue on Sunday, September 25, 1960.
Investigation will continue with additional reports forthcoming.
Respectfully submitted,
EDWARD R. CLODE
Intelligence Agent
Lt. FRANK KAPPEL, Supervisor
Criminal Intelligence
C.C. Military Intelligence
End of Page
---
Copyright 1998-2014Cuban Information Archives. All Rights Reserved.