CUBAN INFORMATION ARCHIVES
DOCUMENT 0038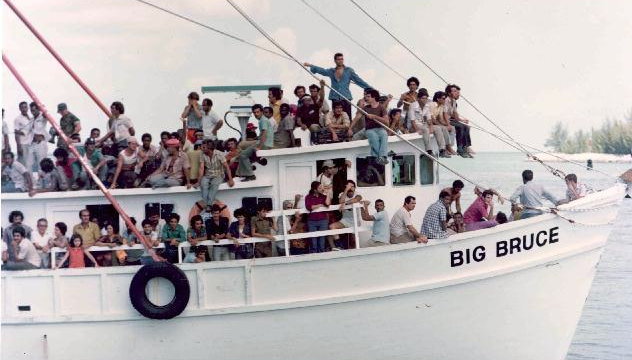 [ Main Site Menu ] [ Back to Refugee Menu ] [ Index to Site Documents ]
---
MARIEL CHRONOLOGY
MAY 13, 1979 - DEC 11 1981

---
REF: DADE COUNTY, FL
PLANNING DEPARTMENT
---
CHRONOLOGY

CUBAN/HAITIAN TASK FORCE
May 13, 1979
Twelve Cubans seek asylum at Venezuelan Embassy in Havana by crashing a bus through the Embassy gates.
June 11, 1979
Several Cubans try to force their way into the Venezuelan Embassy. Police open fire. One person is wounded and the rest are arrested.
July 16, 1979
Two Cubans seek asylum at the Venezuelan Embassy in Havana.
Jan 5, 1980
Venezuela recalls its Ambassador to protest heavy-handed measures used by Cubans in dealing with forcible entries at its Embassy.
Jan 16, 1980
FEE reports that one Cuban was killed and another wounded during an attempt to gain asylum at the Venezuelan Embassy. They were shot in an attempt to drive a truck into the Ambassador's residence.
Jan 16, 1980
Twelve Cuban men, women, and children seeking asylum force their way into the Peruvian Embassy in a station wagon. They are subsequently turned over to the Cuban authorities.
Jan 21, 1980
12 Cuban nationals who illegally entered the Peruvian Embassy are returned to Cuban authorities.
Jan 23, 1980
12 Cubans who had been turned over to Cuban authorities by the Peruvian Ambassador return to the Peruvian Embassy after Lima protests.
Jan 25, 1980
The Cuban Government announces that it will not grant exit permits to persons forcing their way into diplomatic missions except those who are in imminent danger of loosing their life or freedom.
Jan 30, 1980
Cuban Ambassador to Venezuela departs after harassment from Venezuelan authorities.
Mar 28, 1980
A bus with Cuban's seeking political asylum crashes into the Peruvian Embassy. A Cuban guard is killed in the cross-fire.
April 4, 1980
Cuban guards posted outside Peruvian Embassy withdrawn in reaction to death of a guard shot during an attempt by Cubans to crash into the Embassy compound.
GOC announced those seeking asylum in Embassy would be allowed to leave Cuba.
April 4, 1980
The Government withdraws police protection around the Peruvian Embassy announcing that anyone wishing to leave should go to the Embassy. Over 10,000 Cubans seek asylum in less than 48 hours.
April 6, 1980
Responding to the announcement by GOC, 10,800 Cubans jam into Embassy in the two days since the announcement.
April 8, 1980
Cuban Refugees at the Peruvian Embassy send messages to President Carter, Pope Paul II and other head of state requesting assistance in leaving Cuba.
April 9, 1980
Minister Counselor Armando Lecaroz, Peru's new Charge d'Affaires arrives to begin registration of Cuban refugees at the Peruvian Embassy.
April 10, 1980
Gov't of Peru asks ICEM to take urgent measures to assist with international resettlement of 10,000 Cubans gathered in Peruvian Embassy in Havana.
An article in Granma publishes data furnished by the National Revolutionary Police noting that the crime rate had dropped 55 percent since the "anti-social" elements entered the Peruvian Embassy.
Fidel Castro makes an impromptu visit to the vicinity of P. Embassy to observe the refugee situation.
April 11, 1980
United States announces military exercises to be carried out in the US and the naval base at Guantanamo.
April 14-18 1980
Flights from Havana to Costa Rica carried some 1,000 refugees, about half of whom were subsequently taken to Peru
April 14, 1980
President signs determination to admit up to 3,500 Cuban refugees from Peruvian Embassy and to fund transportation and other costs through a $4.5 million drawn down from Emergency Refugee & Migration Fund.
Policy explicitly based on fact that we would be cooperating in international efforts with adequate pre-screening in Costa Rica.
April 15, 1980
Anti U.S. demonstrations are staged in Havana two blocks from the U.S. Interest Section. "Yankee Go Home" slogans are shouted.
United Nations General Waldheim asks the UNHCR to be ready to provide assistance in Costa Rica or in any other country the Cubans seek to go.
April 16, 1980
A U.S. licensed aircraft airlifts 150 Cuban refugees at the Peruvian Embassy from Cuba to Costa Rica in the first flight to leave Cuba. The refugees are met in San Jose by Costa Rican President Carazo.
The second airlift with 90 more Cuban refugees from the Peruvian Embassy arrives in Costa Rica. The refugees were a bused at the Havana airport by pro-Castro militants.
An estimated 7,488 refugees leave Cuba. 500 went to Spain, 420 to Costa Rica, and 368 to Peru. Of the 6,200 going to the United States, an estimated one-fourth were not at the Peruvian Embassy in Havana.
April 17, 1980
Cuba suspends indefinitely, the air bridge between Havana and Costa Rica, stating that all countries that are to receive the Cuban refugees from the Peru Embassy must organize direct flights.
April 18, 1980
Castro suspended the airlift declaring that henceforth only refugee flights to countries of final destination would be permitted.
April 19, 1980
Havana, after 2 weeks of delaying visas to foreign journalist to cover events surrounding the P. Embassy situation, now Permits them entry to observe people's march past the Embassy.
On the 19th anniversary of the Bay of Pigs invasion, hundreds of thousands of sign carrying Cubans march past the Peruvian Embassy t show support for Castro.
Anti Castro demonstrations march at the UN in New York to show support for their compatriots at the Peruvian Embassy in Havana.
The Costa Rican Foreign Ministry sends a message to Castro saying it is willing to grant permanent asylum to "all" 10,000 Cubans. The message also appeals for the resumption of evacuation flights.
Ten American journalists arrive in Mariel by boat to cover the sealift of refugees to Florida. Cuban authorities confine them in the Hotel Triton because they have no visas or press credentials.
Two privately owned US boats sail into the Cuban port of Mariel and pick up 49 Cubans refugees from the Peruvian Embassy. The boats are the first of a flotilla that will transport Cuban refugees to the U.S.
April 20 ,1980
Castro regime announced that all Cubans wishing to emigrate to the U.S. were free to board boats at the port of Mariel.
April 21, 1980
"Freedom Flotilla" began. Within hours of Castro's April announcement, Cuban-American were on their way to Cuba to pick up relatives.
April 21-30, 1980
Total Cubans arrivals -6333
April 27, 1980
Federal Emergency Management Agency established a federal coordinating team in Miami
April 29, 1980
The Federal Emergency Management Agency (FEMA) established a coordination team in Miami to deal with the crisis.
The 10 U.S. journalists are released from the Hotel Triton and are used to Mariel for embarkation to Miami. Their confiscated audio/video equipment and film are returned to them.
The U.S. cancels the military exercises that were scheduled to take place at Guantanamo in May. The ships that were to take part in the exercise will now aid the refugee flotilla.
April 30, 1980
FEMA (Thomas Casey) announces processing center to open within 48 hours.
May 1 - May 31 - Total Cubans arrivals 94,181; total Haitians: 1,485
May 1, 1980
FEMA reports that Red Cross does not view this as a national disaster where it would assume full responsibility for care of victims. It will provide:
1) Comfort kits
2) Cots
3) Blankets as available
Tamiami Reception Center is closed.
May 2, 1980
Cubans seeking word on their requests for U.S. visas were attached on steps of US Interest Section in Havana by a pro-Castro crowd - Interest section virtually under siege.
Violence breaks out at the US Interest Section in Havana when a pro-Castro mob attacks a group of Cubans seeking exit visas to leave Cuba. About 400 individuals take refuge in ISINT.
House situation in Miami acute.
4 housing facilities opened overnight to house persons before processing at Tamiami Park.
1050 persons offered shelter at:
Hollywood Armory
Opalaka Park
Homestead Armory
N. Miami Armory
INS intensify screening at Key West to ascertain whether arrivals have immediate family in South Florida. If so, send to Miami if not, send to Eglin.
Gene Eidenberg holds press conference at 9:30 to state that recent Cuban arrivals will not be eligible for benefits under the Refugee Act of 1980
ORR stops registration at midnight but continues to take names and
other information in interview process.
May 2, 1980
President directed Jack Watson, his Asst. for Intergovernmental Affairs and Secretary to the Cabinet to work with Ambassador Victor Palmieri, US Coordinator for Refugee Affairs.
Thomas R. Casey, Deputy Associate Director of FEMA, assigned responsibility for onsite coordinator of all Federal government activities.
White House announced that President Carter has authorized spending $10 million for processing Cuban/Haitian "boat people" at Eglin, money coming from Refugee Emergency Fund and will constitute initial costs of starting processing facility.
May 3, 1980
Cuban newspaper accuses USINT personnel of provoking the violent incident of May 2.
Eglin Air Force Base, Florida opens as a reception center.
President tells League of Women Voters in Philadelphia that they (Cubans) would be welcomed with "an open heart and open arms."
May 4, 1980
The US states that it will close its visa operations in USINT until the Cuban Government promises more protection. This will cut off legal immigration to the US but will not affect the boatlift.
May 5, 1980
HHS offered staff assistance to State in coordinating voluntary resettlement agencies who are assisting Cubans. No financial resources may be appropriated from Refugee appropriations.
May 6, 1980
HHS contacts INS Commissioner Crossland to alert him to the broader implications of present INS documentation procedures and requests clarification regarding I-94 document.
U.S. Department of Agriculture decided Cubans are eligible for food stamps if they are registered to work.
EFE reports that the port of Mariel will be used by former political prisoners and their relatives who wish to leave Cuba.
President Carter declared a state of emergency for South Florida and approved the use of $10 million in refugee emergency fund to reimburse voluntary organization for their overhead expenses at processing centers and for costs of transporting the Cuban exiles from the centers to their final destinations.
May 7, 1980
FEMA assigns mission to U.S. Army to provide appropriate military personnel, resources and equipment for the purpose of supporting the total federal efforts associated with the reception, processing and resettlement of refugees in Florida and other areas in the United States to be designated as staging or processing sites as directed by the Federal Coordinating Officer or the Disaster Recovery Manager.
White House notifies Rep. John Paul Hammerschmidt on that an undetermined number of refugees will be sent to Ft. Chaffee Army Reserve base for processing to reportedly begin within 10 days.
May 6 or 7, 1980
FAA will not grant permission for any airline for an airlift, so boat is only authorized exist route.
U.S. press report at least 20 Cuban intelligence agents have been identified among the Cuban refugees entering Florida on the boat lift.
Havana domestic radio criticizes Costa Rica for holding an international meeting on the refugee problem; the broadcast affirms that the issue is between the US and Cuba only.
400 US Marines are dispatched to Key West to help maintain order and provide logistical assistance in the processing of the Cuban refugees.
Fort Chaffee, Arkansas opens as a reception center.
May 8-9, 1980
San Jose Conference of 22 countries and 7 international organizations where at least ten countries pledged to accept Cubans for permanent resettlement. Several others offered financial aid to either the Inter-governmental Committee on European Migration (ICEM) or the United Nations High Commissioner for Refugees.
Called upon all governments and international relief organizations "to join their efforts in an international program for resettlement of those wishing to leave Cuba and offer material and financial support for the effort including resettlement opportunities, commensurate with their resources."
May 9, 1980
Eglin AFB reception center filled to capacity (9700 persons)
May 10, 1980
Opalaka becomes operational.
May 11, 1980
HHS personnel requested by Gene Eidenberg to develop proposal for family reunification registry in Miami.
May 12, 1980
A refugee among the thousands streaming into Florida is arrested and is charged with hijacking a US jetliner an diverting it to Cuba years ago.
May 13, 1980
FEMA decides to transfer all unaccompanied minors to Fort Chaffee (including those who have relatives in South Florida)
AFP reports that the Cuban Gov't has ordered a halt to violence against refugees waiting to leave that country. The report states any one assaulting an aspiring emigrant will be arrested.
A White House spokesman says that 35% of the arriving Cuban refugees who have no US relatives may not be allowed to remain. He adds that the US will rely on other countries to help w/ resettlement.
May 14, 1980
President Carter proposes an official US sealift and airlift of Cuban refugees with careful screening of those wishing to enter the US.
President Carter's Statement
-calling for a halt to "Freedom Flotilla"
-offering a government run air & sea lift
-instructing Coast Guard to stop boats going to Cuba.
-making it illegal to do so.
May 15, 1980
The 1963 Cuban Asset Control Regulations are amended by the US Treasury to ban all business transactions which aid the flight of Cuban refugees to the US.
May 17, 1980
Miami Black community riots over court decision that acquitted several policemen accused of beating a black man to death.
An estimated one million Cubans march past the US Interest Section as the focal point of an island-wide series of anti-US demonstrations.
Fort Indiantown Gap, Pennsylvania opens as a reception center.
May 19, 1980
A US Coast Guard blockade is establishing to prevent boats from traveling to Cuba to take out refugees.
Cuba responds to President Carter's proposal for an orderly flow of refugees by insisting that U.S. Cuban talks must cover all bilateral issues:
Fort Chaffee filled to capacity (18,972 persons)
May 22, 1980
State of Florida advises FEMA that it had taken temporary custody of 106 children, of which 61 were in their shelter. Rest were apparently under custody of Catholic Charities of Miami.
FEMA is negotiation a contract with Florida which in turn is sub contracting with Catholic Service Bureau of Miami for care of minors at a rate of $20-$30/child per day. Short term contract for temporary relief.
US presents the GOC a list of 5 Cubans citizens who expressed a desire to be repatriated to Cuba and requested access to Cuban consular officials.
Thomas Macy, FEMA, assigns DOD responsibility on reimbursable basis, for all future airlift services air transporting arrivals from Key West to relocation sites. Change will be effective 5/24.
Cuba rejects an offer by the US, Great Britain and Costa Rica to negotiate an international solution to the Cuban refugee problem.
May 24, 1980
A Cuban patrol boat harasses a US Coast Guard vessel in international waters near the Cuban coast forcing it to take avoidance measures.
Hundreds of frustrated Cubans riot at Eglin some climb fences. Some are injured none seriously.
May 25, 1980
A contract under which the State of Florida will be reimbursed for care and special needs of unaccompanied children has been finalized. Temporary contract agreed to by FEMA because legal decision as to responsibility for these children has not been reached and the State has announced that it will not accept additional children.
May 27, 1980
Macy, FEMA requested HAS assistance in relocating 13 Cuban patients with mental conditions that had been admitted to Tampa VA Hospital. Admission handled by FEMA, INS and hospital.
May 29, 1980
Fort Indiantown Gap is filled to capacity (18,311 persons)
Fort McCoy, Wisconsin opens as a reception center.
June 1-30 - Total Cubans Arrivals = 115,436
June 1, 1980
Some 1000 Cubans riot at Ft. Chaffee. Two buildings were burned. State trooper and tear gas were needed to disperse the crowd. 84 Cubans were jailed.
June 2, 1980
Havana Domestic Service reports that a thousand Cubans, angry over delays in their resettlement, battle state and military police at the Ft. Chaffee relocation center; 45 people are injured and several buildings are destroyed by fire.
268 Cubans who had been staying at the Peruvian Embassy in Havana arrived in Lima to join the 328 Cuban refugees who have been there for a month after being evacuated via Costa Rica.
June 5, 1980
Havana announces that 33 Cuban refugees, who for various reasons have not been authorized to leave Cuba, remain at Peruvian Embassy. Havana states they must remain there or surrender to authorities.
Havana announces that the Peruvian Embassy building will become The Militant People's March Historic Museum.
Foreign Aid Authority bill for FY'81 passes House with Fascell floor amendment. Amendment triggers the $100 million appropriated in Supplemental Appropriations Act for FY'80
-Reimburses States up to 100% for cash and medical assistance and Social Services to Cuban/Haitian Entrants.
-Permits President to direct executive agencies to provide processing and resettlement assistance for Cuban - Haitian entrants.
-Provides authorizing language for the $65 million "budget" amendment appropriation.
June 6, 1980
PL 288, 93rd Congress, EO 12148 & Title 44, CFT, Part 205 (Federal Disaster Assistance)
Subpart I
HAS is requested to provide:
1) emergency medical services as needed for Cuban refugees temporarily located at Ft. Indiantown Gap, Pa. As directed by Deputy Federal Coordinating Officer.
2) Reimbursement made in accordance with Section 307 of the Act and Part 205, Subpart I Reimbursement regs.
June 7, 1980
US gives the Government of Cuba a note protesting in the strongest possible terms the cynical actions of the Gov't of Cuba in sending to the United States hardened criminals who constitute a danger to any society "and requesting that Cuba accept the return of these persons".
June 8, 1980
Contract entered into between FEMA and Florida on May 23, under which State of Florida will be reimbursed for care given to unaccompanied minors has been renewed for 30 days.
June 9, 1980
As of May 31, FEMA reports $55.7 million in reimbursable costs had been expended or obligated by various Federal agencies.
41.3 million DOD
6. million FEMA (4 million for Red Cross)
non-reimbursable cost 8.3
INS 4.4 million
HAS 2.4 million
June 11, 1980
Coast Guard reports first judicial hearing from improper operation or use of vessels during the Cuba to Key West sealift was held during the Operator charged-operating beyond scope of his license.
- improperly engaging in international voyage
Operator claimed no choice, official in Mariel dictated he would have on his boat. Coast Guard claimed equipment on boat showed intent of carrying more than 6 people.
June 16, 1980
Fort McCoy is filled to capacity (13,258 persons)
June 17, 1980
About 50 Cuban refuges in Lima, Peru go on a 24-hour hunger strike to pressure the US- government into admitting them into the United States.
Foreign Aid Authorization bill for FY'81 passed Senate with Stone floor amendment. Same as Fascell amendment.
June 19, 1980
H.R. 7534 Supple mental appropriations for FY 1980.
-to include $100 million in resettlement aid for Cuban and Haitian émigrés under the authorization passed by the House on June 5.
Orange Bowl is opened as a site for sponsorship breakdowns. Opened with 150 persons and within 72 hours there were 800 people living there.
June 20, 1980
Ambassador Palmieri's statement.
"Cuban/Haitian Entrant" special legislation defining services and benefits for those arriving in the U.S. between April 21 and June 19, and who are in INS proceedings as of June 19, 1980, and all Haitians who arrived after October 1, 1979 and are in INS proceedings as of June 19, 1980, will be paroled indefinitely into the country (parole reviewable in six months) as Cuban/Haitians entrants (status pending).
June 30, 1980
Second San Jose Conference to discuss the humanitarian aspects of the Cuban-Haitian influx and the need for international cooperation particularly on the issue of mutual respect for immigration laws of the countries concerned.
July 1 - July 31 Total Cuban Arrivals = 118,065
July 2, 1980
US hands the Cuban Government a list of 65 Cuban-citizens who had arrived via Mariel an wished to return to Cuba. We asked that the Cuban Interests Section make the necessary arrangements for their return to Cuba.
Federal district judge, James King, ordered that INS take no further action against the 4000 Haitians who had filed the class-action suit until the Government presents him with an acceptable plan for reconsidering their asylum claims. That plan he said must eliminate the "wholesale violations of due process."
July 14, 1980
State Department temporarily withdraws 17 U.S. diplomats and dependents because of a "virulent and continuing anti-American campaign" in an effort to "pare down" the staff.
July 15, 1980
Cuban-Haitian Task Force assumes responsibility for camp operations from the Federal Emergency Management Agency (FEMA)
July 25, 1980
Orange Bowl temporary site is closed to ready the field for season opener on August 10. 650 Cubans then living in the Orange Bowl, were moved to Latin River Front Park (Tent City). Within 48 hours the number rose to 850-950.
July 29, 1980
Foreign Aid Appropriation Act for FY'81 reported out of House Committee with $65 million "budget" amendment. This amendment is to provide $35 million for resettling Cubans and $30 million for continued operation of processing centers.
July 31, 1980
Cuban-Haitian Entrant Act of 1980 submitted to Congress by the Administration.
-Creates special Cuban-Haitian entrant status.
-Defines services and benefits for arrivals
-Specifies criteria for federal reimbursement to States.
Christian Holmes is Director of the Cuban-Haitian Task Force by Ambassador Victor Palmieri.
Aug. 1 - Aug. 31 - Total Cubans Arrivals = 121,994
Aug. 5, 1980
Senator Kennedy introduces the Cuban/Haitian Entrant Act of 1980 (S.3013)
-Creates special Cuban-Haitian entrant status
-Defines services and benefits for arrivals
-Specifies criteria for federal reimbursement to States.
Kennedy introduces Amendment No. 1962 to S. 3013
-declares Cubans-Haitian defined by Administration's bill to be refugees eligible for benefit provisions of Refugee Act of 1980.
-Provides federal reimbursement at levels specified in Act 100%.
Dr. Eugene Eidenberg announced plans to consolidate resettlement activities of the Cuban at Fort Chaffee, Arkansas.
A series of disturbances involving several hundred Cubans broke out at Ft. Indiantown Gap. The 82nd Air Borne was called in to tighten security. About 70 Cubans were moved into the Louisberg prison.
Aug. 7, 1980
President Carter signs Presidential Determination to increase the amount of ERMA funds available to $20 million and States that the money is to be used for those Cubans and Haitians applying for "political asylum".
Aug. 13, 1980
Administration made $16.8 million available to the Miami/Dade County, Fla., area specifically targeted to provide additional support to the area's affected health and educational systems.
Sept. 10, 1980
Agreement signed between ORR and INS regarding the placement of unaccompanied Cuban or Haitian minors in suitable foster are homes, groups homes, institutions or other placement facilities.
Sept. 12, 1980
INS is assigned, by FEMA, the responsibility, including financial to enter into contractual relationships w/appropriate state agencies to provide services to unaccompanied Cuban entrant minor children while those children are under INS parole.
Sept. 19, 1980
Contract is signed with Wisconsin dept. of H.H.S. to arrange for the provision of assistance and services to unaccompanied Cuban minors, who have been paroled into the United States as Cuban-Haitian entrants (status pending) or otherwise and who have been temporarily housed in a Federal processing center at Fort McCoy pending their resettlement into suitable homes or institutions.
Sept. 22, 1980
Contract signed with the Pennsylvania Council of Voluntary Child Care Agencies to perform same functions as Wisconsin Dept. of H.H.S. (See Sept. 19)
Sept. 23, 1980
Cuban/Haitian Task Force announces that Fort Allen, a U.S. Navy facility located in Puerto Rico has been selected as the new reception center for Cuban and Haitian arriving in South Florida, and those being kept a Krome South and North and at Tent City.
Sept. 25, 1980
288 Cubans are flown to Ft. Chaffee from the reception center at Eglin Air Force Base. This begins consolidated at Chaffee.
Sept. 26, 1980
Castro closed Mariel and orders all boats awaiting passengers to leave. 125,262 Cubans have arrived at Key West via Mariel.
Sept. 26, 1980
Last flights from Eglin to Chaffee carry 327 Cubans. Ft. McCoy enters consolidation process sending 117 to Ft. Chaffee.
Sept. 27, 1980
394 arrived in Ft. Chaffee from Ft. McCoy.
Sept. 28, 1980
268 Cubans arrive in Ft. Chaffee from Ft. McCoy.
Sept. 30, 1980
Miami Tent City is closed and the last tents taken down. More than 750 Cubans were relocated or resettled just prior to closure.
Oct. 1-31 Total Cuban arrivals: 124,779; total Haitians: 10,211
Oct. 1, 1980
Fascell-Stone Amendment which treats Cuban-Haitian entrants as refugees for the purpose of providing them domestic assistance under the terms of the Refugee Act of 1980 and reimbursing states and localities up to 100% passes the Senate. Also triggers $100 million appropriation in the FY 80 Supplemental to reimburse state and local governments for the costs of cash and medical assistance and social services. Permits President to direct executive agencies to provide processing and resettlement assistance for Cuban-Haitian entrants. Provides authorizing language for the $65 million "budget amendment" appropriation.
Resolution making continuing appropriations for FY 81 passes Congress. Contains $65 million "budget amendment" providing $35 million for resettlement and processing expenses and $30 million for camp operations.
Oct. 10, 1980
President Carter signs the Refugee Education Assistance Act of 1980 (Fascell-Stone Amendment) in Tallahassee, Florida.
Oct. 21, 1980
CHTF announces the President's decision that Cubans and Haitians who arrived during the period of June 20 to October 10 will be paroled into the U.S. as "Cuban/Haitian entrants (status pending)". Approximately 11,000 Cubans and 5,500 Haitians arrived in South Florida during this period.
Miami Beach City Commissioners vote 6 to 1 to stop distributing vouchers for hotel rooms, meaning that more than 1,500 Cuban refugees might face hotel evictions.
Oct. 23, 1980
Krome South is closed. All Haitians in the compound are transferred to Krome North.
Dec. 1-31, 1980
Counties and cities submit claims for retroactive reimbursement to the state for payment under Fascell/Stone provisions.
1981
Jan, 15, 1981
State of Florida HRS begins Cuban/Haitian Entrant Assistance Program. Two processing centers are opened in Dade County - Opa-locka Airport for Cuban entrants and the Armory for Haitian entrants.
Feb/Mar. 1981
Metropolitan Dade County receives retroactive reimbursement through January 15, 1981 for health care and social services to Cuban/Haitian entrants.
Aug. 1981
INS decides not to release any Haitians from Krome North until final adjudication of each claim for political asylum.
Dec. 8, 1981
Office of Refugee Resettlement relaxes documentation requirements for Cuban/Haitian entrants to be determined eligible for assistance under Fascell/Stone provisions. This decision made larger numbers of Cuban and Haitians eligible for assistance.
Dec. 11, 1981
ORR issued eligibility revisions to cash and medical assistance program for Cuban/Haitian entrants. These revisions eliminate approximately 22,000 from assistance.
End of Page
---
Copyright 1998-2014 Cuban Information Archives. All Rights Reserved.