CUBAN INFORMATION ARCHIVES
DOCUMENT 0346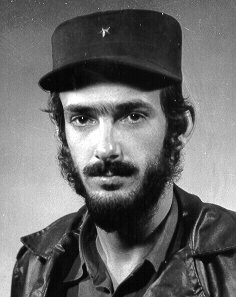 [ Main Site Menu ] [ Back to Alpha 66 Menu ] [ Index to Site Documents ]
---
Eloy Gutierrez Menoyo
1961 Associates
(two reports)

---
Dade County Police File
CI-300-D
---
DATE: JUNE 26, 1961
TO: THOMAS J. KELLY, Metropolitan Sheriff
FROM: LT. FRANK KAPPEL, Supervisor, Criminal Intelligence
SUBJECT: ELOY GUTIERREZ MENOYO
Acting on information received from a usually reliable confidential source, the writer, accompanied by Agent Leonard, checked the premises at 1332 N.W. 2nd Street, Miami, Florida in an attempt to locate the above named subject who is alleged to be a former Major in the Castro army. MENOYO is further alleged to be carrying a loaded automatic pistol on his person at all times.
Subsequent investigation disclosed MENOYO had moved to 1324 N.W. 2nd Street, (next door), on Thursday, June 22, 1961 with four other Cuban exile males.
MENOYO was located on Friday, June 23, 1961 in an apartment over 1324 N.W. 2nd Street in the company of seven other Cuban males whose names are as follows:
1. LORENZO FLORENCIO PERNAS, Age 33.
2. ANGEL GILBERTO PANTOJA BANOS, Age 26
3. ROGER REDONDO GONZALEZ, Age 26
4. ARMONDO FRETES, Age 31
5. ACOSTA DOMINGO ORTEGA, Age 24
6. ENRIQUE NUNEZ, Age 27
7. RAPHAEL HUGUET, Age 26
BANOS acted as spokesman for the group and when questioned about the weapon willingly surrendered it to the writer. It had been kept in a top drawer of a dresser in the southeast bedroom.
The weapon to be submitted for ballistics check, is described as a German P-38, Serial Number 5063, blue steel, and includes a clip of eight rounds of live ammunition.
Page 2
MENOYO, through BANOS, stated they needed the weapon when in the area of the Roberts Drug Store, 590 W. Flagler Street, as "all the people in that area carry guns". We advised against any further carrying of arms and suggested we be notified if any were observed at Roberts Drug Store in the future.
BANOS further stated this group had arrived at Key West, Florida around New Years after having fled Cuba aboard two fishing boats.
MENOYO is well known to this unit and to many Agencies of the Federal Government for his activities and associates while in Castro's service.
Periodic checks of this group will be made with additional reports forthcoming.
Respectfully submitted,
EDWARD R. CLODE
Intelligence Agent
LT. FRANK KAPPEL, Supervisor
Criminal Intelligence
cc: Investigator Glenn R. Adams
United States Immigration and Naturalization Service.
---
Miami, 27 de Enero de 1961
RELACION DE PERSONAS
1. LAZARO ASCENCIO SUAREZ
2. ANGEL GILBERTO BANOS
3. PEDRO MANUEL DIAZ MORALES
4. ARMANDO FLEITES DIAZ
5. AUGUSTO GONZALEZ GUANCHE
6. JESUS GONZALEZ FRAGA
7. ELOY GUTIERREZ MENOYO
8. JESUS LA ROSA SABINA
9. MAX LESNICK MENENDEZ
10. MARIO SUAREZ PADRON
11. PALINO LICO DIAZ
12. ENRIQUE LOPEZ CONDE
13. ANDRES NAZARIO SARGEN
14. EUSEBIO OJEDA DIAZ
– . DOMINGO OJEDA DIAZ. ESTE "NO" [NOT THIS ONE]
15. DOMINGO ORTEGA ACOSTA
16. FLORENCIO PERNAS LORENZO
17. GUSTAVO PORTA BOLANOS
18. ROGER REDONDO GONZALEZ
19 ANGEL RAMON RUIZ DE ZURATE Y CASTELLON
Observacion: Domingo Ojeda Diaz, es un error, no tiene nada que ver con esta lista. En la lista se expone "Este No"
End of Page
---
Copyright 1998-2014 Cuban Information Archives. All Rights Reserved.