CUBAN INFORMATION ARCHIVES
DOCUMENT 0344
[ Main Site Menu ] [ Back to Personality Menu ] [ Index to Site Documents ]
---
Alleged Kidnaping of Cuban National
Higinio "Nino" Diaz Ane
1960

---
Dade County Police File
#39857-G
---
DATE: July 8, 1960

TO: THOMAS J. KELLY, Metropolitan Sheriff

FROM: LT. FRANK KAPPEL, Supervisor, Criminal Intelligence

SUBJECT: ALLEGED KIDNAPPING [KIDNAPING] OF CUBAN NATIONAL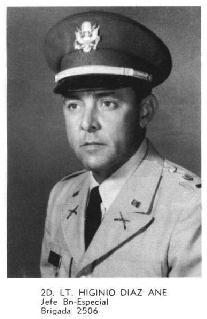 ---
On July 5, 1960, Agent A. L. TARABOCHIA proceeded to 3647 S.W. 87th Avenue to interview a NINO DIAZ [HIGINIO "Nino" DIAZ ANE] after receiving information from a Federal Agency that there was a plot to kidnap said Cuban.
Lieutenant KAPPEL, after receiving the information contacted Patrol and Traffic Division and made arrangements for a periodical surveillance of the residence indicated above.
No report of any suspicious activity was received over the week-end.
At the time of the Agent's visit, the residence was empty and signs for rent were posted on the lawn. In the mail-box was a telephone bill addressed to RAYMOND DEL RIO.
The Agent was unable to obtain information from the neighbors concerning the new address of the subject.
Respectfully submitted,
A.L. TARABOCHIA
Intelligence Agent
LT. FRANK KAPPEL, Supervisor
Criminal Intelligence
End of Page
---
Copyright 1998-2014 Cuban Information Archives. All Rights Reserved.