CUBAN INFORMATION ARCHIVES
DOCUMENT 0207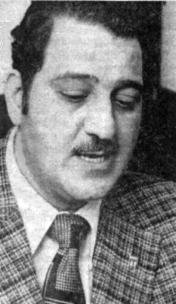 [ Main Site Menu ] [ Back to Protest Menu ] [ Index to Site Documents ]
---
EMILIO MILIAN BOMBING
1978 Continuing Investigation
---
[REFERENCE: Dade County Police file, OCB, Case No: 3-92 dated 11/20/1978]
---
CASE NO: 3-92 DATE: November 20, 1978
Continuing investigation into the bombing of WQBA News Directory EMILIO MILIAN occurring in Dade County, Florida.
SYNOPSIS:
Information obtained; interview with J. Sanford and Emilio Milian; meeting with assistant U.S. Attorney Sanford on Thursday, 16 November 1978.
DETAILS:
During the interview the following was learned by this detective. That on 30 November 1978 a G rand Jury meeting will be held and RICARDO MORALES NAVARRETTE is due to be a prime witness, possibly the only witness. This information is not to be released as MORALES' testimony is strictly secret.
During the conversation this detective also learned that GASPAR JIMENEZ had received a check for $39,000 to be signed while in federal custody. The check bore these items of information: from corporate account of RIVIERA U.S.A. CORPORATION, drawn on Continental Bank, payee GASPAR JIMENEZ. This information was recorded by the guard who took the check from Mrs. JIMENEZ to GASPAR JIMENEZ and returned it after being signed by GASPAR. According to Sanford, this information was given to the FBI for tracing and the FBI believes this corporation to be tied up to HERNANDEZ CARTAYA'S WFC CORPORATION.
The FBI also firmly believes HERNANDEZ CARTAYA to be a Cuban spy operating in the U.S.A. or at least that CARTAYA has very good ties with Cuban intelligence network.
Sanford offered this information as unverified and offered no proof, stating that he was precluded from discussing it since it is an ongoing case.
Further information in reference to PABLO GUSTAVO CASTILLO is that he had been promised financial backing during his incarceration by a very high narcotics dealer, and that EULALIO FRANCISCO CASTRO AKA FRANK CASTRO was working for a large narcotics trafficker, the same one that is financing for Castillo. Note: FRANK CASTRO is up to this date the suspect in providing the explosives to CASTILLO from which the Milian bomb was made.) This information had been give on prior occasions by RICARDO MORALES NAVARRETTE.
Sanford did not go into details as he explained the conversation were part of an ongoing federal case which involved some wiretaps. The persons or cases under investigation were no disclosed.
On 17 November 1978 this detective met with EMILIO MILIAN and the following was learned during the meeting. Milian is extremely upset because of the slacking off in the intensity of the investigation. This detective explained to him that some progress is shutting off some new sources of information.
MILIAN stated that a complete campaign to keep him off the air is ongoing and is being done by the WQBA radio station. According to MILIAN, each and every time he attempts to purchase a radio station a new group comes up and makes an identical application and then attempts to scare off all potential sellers by telling them that MILIAN is a marked man and that any dealings with him will probably cause retaliation against those dealing with him. On three occasions deals have been mysteriously dropped due to this type lf pressure tactics. Further, that on one occasion in which MILIAN had set up to purchase the old WFAB radio station (it was shut down by FCC due to fraudulent advertising schemes) a black group applied for the same radio station. The persons given by the applicants as references are all members of AREYITO [Arieto], a Socialist newspaper, and associates of very heavy narcotics dealers, including the daughter of CARLOS PRIO SOCARRAS, ex-President of Cuba. The blacks presented a license application and a proposed plan for operation which was the same one prepared by MILIAN while he was News Director at WQBA prior to his bombing. WQBA obtained the broadcasting license renewal based on those items submitted. Included in those papers submitted are several fraudulent interviews claimed by the blacks which MILIAN really did himself and can prove it.
MILIAN was also disturbed by the fact that in order to stop these people from these activities he must sue them and WQBA but if he does he is fearful that it may ruin the police case under investigation. MILIAN stated that the longest he will wait is until January 1979. After that date he will no longer consider the police case before instituting any type of litigation. MILIAN urged this detective to keep in closer touch since during the last few months very little contact had existed.
During his conversation, MILIAN also stated that Miami News reporter HILDA INCLAN had been fired by the Miami News after her refusal to stop printing articles about Cuban criminality in the Latin community after repeatedly being told not to write about R. [Rafael] VILLAVERDE and the LITTLE HAVANA ACTIVITIES CENTER. According to MILIAN, HILDA INCLAN was told by her editors that she could not write any more stories about the LITTLE HAVANA ACTIVITIES CENTER or CETA. INCLAN refused to be told on what to write her stories. She eventually either left of her own accord or was fired due to the working conditions imposed upon her. These conditions were mostly caused by VILLAVERDE'S constant complaints and threats.
No other information at this time.
PREPARED BY: D. BENITEZ, Officer
Terrorist & Security Unit
APPROVED BY: P. JANOSKY, Sergeant
Terrorist & Security Unit
REVIEWED BY: T. LYONS, Lieutenant
Tactical Investigation Section
DB/dh
End of Page
---
Copyright 1998-2014 Cuban Information Archives. All Rights Reserved.