CUBAN INFORMATION ARCHIVES
DOCUMENT 0203
[ Main Site Menu ] [ Back to Entertainment Menu ] [ Index to Site Documents ]
---
BETTY HOWARD
Packed Havana Theaters 1956
---
[REF: Cabaret Quarterly, Special Resort Number, Volume Five, poss 1956, pp52-54]
---
BETTY HOWARD
her bumps to the bongo packed Havana theatres [theaters]
Page 52

[To see a full size photo, right click and VIEW IMAGE]
[caption] Typical of strippers who have discovered that Cubans fancy American version of bumps and grinds is lovely Betty Howard who bounced to howling houses at Havana's Compoamar and Marti theaters.
Page 53
Havana's reaction to American strippers like Betty Howard would come as no surprise to Harold Minsky. Impresario Minsky, who should know if anyone does, once pegged her as one of the top ten exotics in the business.
Living up to such praise can be pretty rough on a stripper. When you're billed as the best you gotta produce and that's just what the intense gyrations of Miss Howard are calculated to do. She's crowd pleaser and if the response of wide-eyed audiences at the Compoamar and Marti theaters in Havana are any indication, Minsky knew what he was talking about.
Says Betty about all this, "I like it."
This attitude is one of the things that's made her a top-runger in the doffing for dollars department. She's nuts about her work. There's nothing, but nothing, she'd rather be doing than peeling her way to the buff before the eager and enthusiastic gaze of an elated male audience. The cry, "Take it off," is music to her ears. Just a little encouragement of this king and the dainty garments go flying as thick and fast as the law allows.
But nobody cares how fast the wrapping comes off if the package beneath isn't a prize. And here's the second reason why she's at the top of the heap. The Howard package in the pelt is a pretty imposing bundle. The five feet five and a half of her curves in and out nicely to the tune of 40-25-37. And that's a very intriguing melody.
Page 54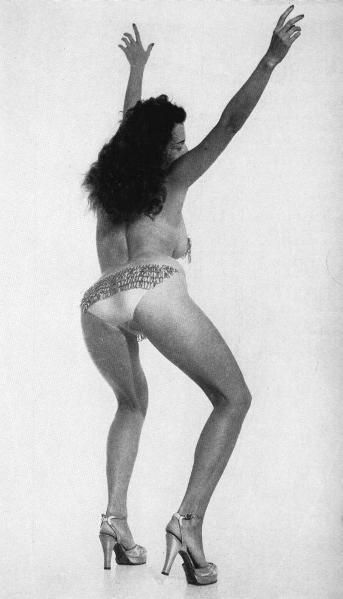 [To see a full size photo, right click and VIEW IMAGE]
[caption] More bounce to ounce is supplied by Betty in torrid routine which has her dispensing with costume of ostrich feathers. Famed impresario, Harold Minsky, recently named her among world's top ten exotic performers.
End of Page
---
Copyright 1998-2014 Cuban Information Archives. All Rights Reserved.