CUBAN INFORMATION ARCHIVES
DOCUMENT 0202
[ Main Site Menu ] [ Back to Entertainment Menu ] [ Index to Site Documents ]
---
MIAMI - MIAMI BEACH
NIGHTLIFE 1956
---
[REF: Cabaret Quarterly, Special Resort Number, Volume Five, poss 1956, p57]
---
MIAMI
THE PALACES OF STRIP
ELAINE DEMING
SAN SAN
MIAMI LOVES THE TROPICAL PINA PARDISE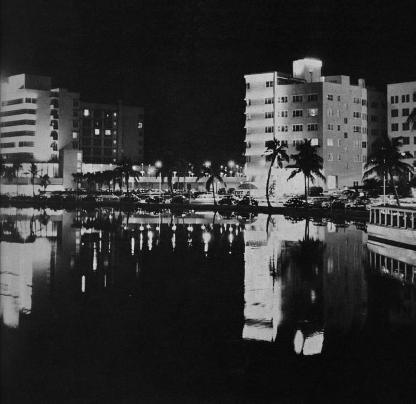 [To see a full size photo, right click and VIEW IMAGE]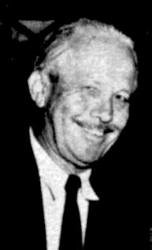 By JACK KOFOED
Author, "Moon Over Miami"
Page 57
On a mid-winter day when most of America shivers, Miami bustles under a golden sun as warm as a woman's embrace. The sun shines on jockies in multicolored silks booting thoroughbreds down the homestretch at Hialeah; on golfers, water skiers and vacationers; on high-busted slim-legged girls in postage stamp bathing suits lolling along its beaches.
The moon over Miami brings a different tempo. When the neons blossom along the avenue, the fun-seekers begin their nightly forays for pleasure. And there are few cities in the world that can supply as much entertainment in such a variety of forms as can this tourist mecca.
A decade ago, shrewd, pot-bellied Danny Davis, who had been in the business most of his adult life, said: "In a few years we won't have any night clubs. The
Page 59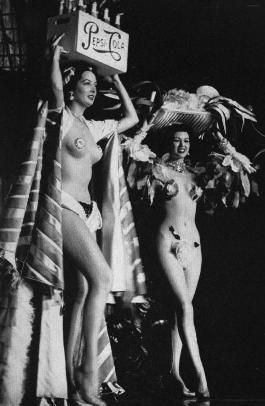 [To see a full size photo, right click and VIEW IMAGE]
[caption] Lavish costumes, tall stately chorus line, is order of the day or entertainment in Big Miami night clubs.
THE GAMUT AT NIGHT... SATIRE, SONGS, SHOWGIRLS, STRIPPERS
hotels will finish us the way Joe Louis finished Billy Conn." Since Miami and Miami Beach housed the most fabulous bistros in the land–some with gambling casinos–the boys of the Dawn Patrol laughed off this prediction. Millions of dollars were invested in flamboyant houses of entertainment.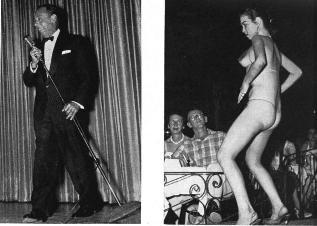 [To see a full size photo, right click and VIEW IMAGE]
[caption] Amusement in Miami runs gamut from the wild hysterics of humor by Joe E. Lewis, at top clubs, to strippers plying their wares in small saloons.
It didn't seem possible that many of these places would ever go out of business. Yet, some are now supermarkets, auction houses or restaurants. In greater Miami only the Vagabonds and Palm Island carry the fading banners with an occasional brief opening by the Beachcomber. To the north in Hollywood and Fort Lauderdale the night club still has a place as exemplified by Papa Bouche's Villa Venice, Jack Valentine's, and Jimmy Fazio's. Despite this dwindling of the night club as separate entities, night life entertainment is abundant in the hotels and strip clubs.
Nowhere–if you except Las Vegas, where roulette wheels and crap tables pay the freight–can one see more star-studded performers than ever in hotels hunched shoulder to shoulder along the ocean side of Collins Avenue. Here is modernism gone mad in an atomic burst of steel, glass, chromium and swimming pools. Such rooms as the Pompeii in the Eden Roc, the Fontainbleau's La Ronde, the Pagoda in the Saxony and the Lucerne's Club Chalet have a luxury of decor so gorgeous it staggers the imagination.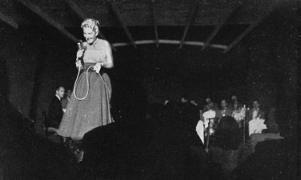 [To see a full size photo, right click and VIEW IMAGE]
[caption] Expert songstress Margaret Whiting puts across a number in plush La Ronde room of Fountainbleau.
Here all the greats of show business parade their talents: Cyrano-nosed Jimmy Durante, gravel-voiced Joe E. Lewis, busty Sophie Tucker, Peter Lind Hayes, Jane Froman, Roberta Sherwood, Lillian Roth, all who command four and five figured salaries. Strangely enough,
Page 60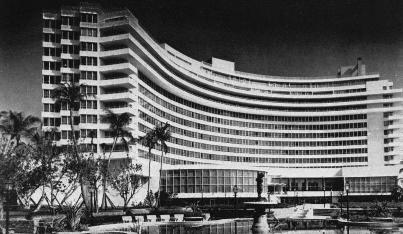 [To see a full size photo, right click and VIEW IMAGE]
[caption] Fabulous Fountainbleau, 15 million dollar pile of masonry has two night clubs, two cocktail rooms inside. It's mecca in Miami for all the big names.
THE PALACES ARE PLUSH
amidst the flamboyant decor are the world's top entertainers
the high kicking chorus line, once considered an absolute necessity to any show, has disappeared.
Naturally, evenings in such glamour spots are expensive. At the height of the season when the diamond-mink and Continental Mark IV set are in attendance the tab runs high. Society people come down from Palm Beach, horse owners from Hialeah, business tycoons, cloak-and-suiters and racket boys from everywhere. To them a dollar is something to throw away.
It is possible to travel from Lincoln Road to the far hinterlands of North Beach, and find entertainment, ranging from an unknown trio to a great star, in almost every hotel. Costs vary. At the Eden Roc, for instance, dinner will cost a lonely man about ten dollars, if his taste is not too extravagant, and there is a three dollar liquor minimum. If he lingers at the bar before dining, strikes up conversation with a lovely, and equally lonesome damsel, and invites her to be his dinner guest the cost will considerably more than double. She may have a taste for wine and a flaming dessert like Cherries Jubilee. There are many legitimate dolls yearning for male companionship in that glittering paradise of Miami Beach. If a guy spends thirty or forty dollars entertaining the lass he can hardly leave less than a ten dollar tip.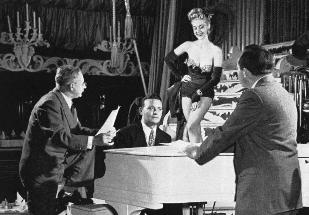 [To see a full size photo, right click and VIEW IMAGE]
[caption] Glittering productions of Latin Quarter are work of Lou Walters. At left [in this picture] he plans new show. [Lou Walters is the father of TV news person Barbara Walters]
The pattern changes in summer, for the highest paid stars are more likely to be in Las Vegas during the dog days. When once the town shut up shop for that period, it is now crawling with visitors. Many, though, are on package tours or slim budgets, and can't afford winter prices. The talent offered is exceptionally good, though, with a trend toward girl singers, like Lilo, the French star and Joni James, backed up by a comedian, or dance team. Prices come down, but it the ultra-smart hotels are still not exactly cheap.
With a few exceptions, winter and summer, bills are changed every week or each fortnight. Charlie Farrell stays at Gray's Inn all season long, as do the Vagabonds in their own club, but, as a whole, variety seems a prime requisite towards success.
Page 61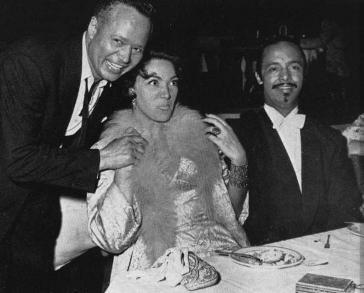 [To see a full size photo, right click and VIEW IMAGE]
[caption] Top entertainers like Billy Daniels, Yvonne Menard and Perez Prado can be viewed offstage at Miami's big clubs.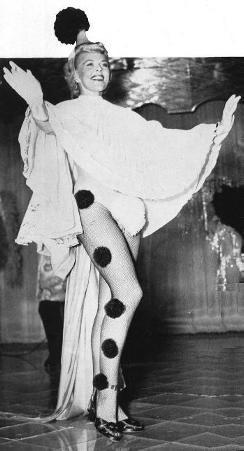 PHOTO [caption] Luscious chorine below, is typical of type used for latin Quarter review.
Anyone visiting a town for the first time should sample the specialties of the community, like stone crabs in season, or Pina Pineapple drink (see page 73) served at the Luau on the 79th street causeway. It developed through unknown sources in the Caribbean islands, long, long ago and for a hot night on a town-painting expedition it's delicious and cooling drink.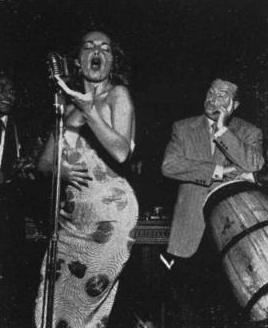 [To see a full size photo, right click and VIEW IMAGE]
[caption] Rhumba king, Xavier Cugat and singing wife Abbe Lane are seasonal regulars.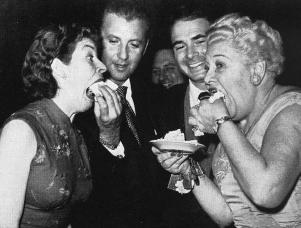 [caption] "Last of Red Hot Mammas", Sophie Tucker, celebrated birthday Miami style with comedienne Martha Raye.
Page 62
THE PALACES OF STRIP
where a pretty girl is like a red-hot melody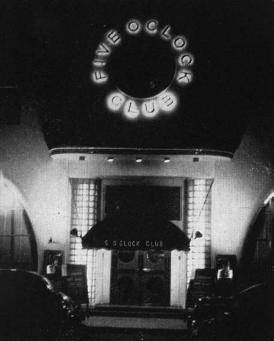 [To see a full size photo, right click and VIEW IMAGE]
[caption] Smash hit at Five O'Clock Club in Miami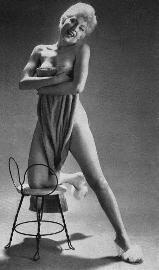 [caption] Sharon Knight is queen bee of all exotics




[caption] Lili St. Cyr. Both do bubble baths.
Page 63
STRICTLY on the surface, one may ponder a bit as to why strip joints do so well in Greater Miami. Certainly at the cabanas and on the beach the women wear as little as do the strippers at the conclusion of their routines. So if it is purely a question of exposed epidermis, why do people flock into the stripperies? For the answer, one must visit a palace of strip.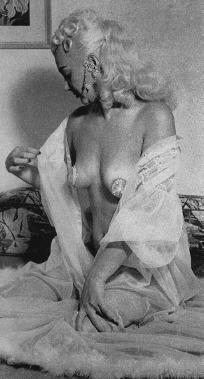 [To see a full size photo, right click and VIEW IMAGE]
[caption] Passionate peel of Cookie Cooper at Five O'Clock Club starts out in full wedding dress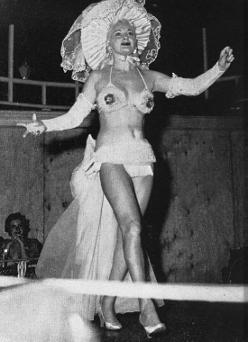 [caption] ends up in as little as law permits.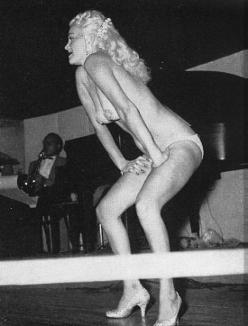 [caption] And, at home, the law is not around.
Appearing fully clothed and peeling down to the legal minimum is not a complicated act. The "art" lies in how it is done. And in Greater Miami where some of the top edysiasts entertain, the art has many forms. Examples of the extremes sought in order to be different are Zorita who disrobes with a python as a partner and Siska who performs similarly with a macaw. However, Penny Art,
Page 64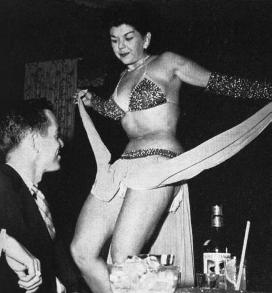 [To see a full size photo, right click and VIEW IMAGE]
[caption] Customer contact is credo of stripper Jeanne Delta. Torrid dance begins on stage ... almost ends in a patron's lap.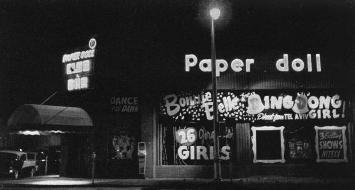 [caption] Paper Doll Club is noted for pulling stops. Standard policy is keep the customer in happy mood.
Page 65
who has been in continuous action for a decade retains her popularity by playing it straight with a "Pretty Girl Is Like a Melody" routine.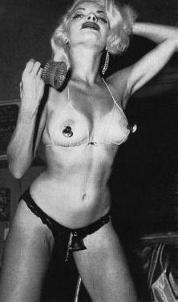 [To see a full size photo, right click and VIEW IMAGE]
[caption] "Ding Dong Girl," Bonnie Bell executes wild dance with tinkling bells which are strategically attached.
There was a time when an operator settled on a star attraction and kept her indefinitely. Miss Art has been at the red Barn almost all her career. During a three year span, Zorita must have occupied the Gaiety stage for all but a couple of months. Leon Enken, of Leon and Eddie's, had six-foot-four-inch Lois de Fee with him so long habitues assumed she owned fifty percent of the joint. Lois was followed by Flash O'Farrell and Toni Rave, but nobody is on a quick shift at L & E's. They stay around a long, long time.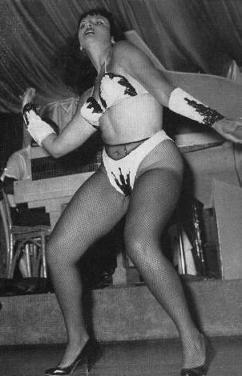 [To see a full size photo, right click and VIEW IMAGE]
[caption] Daring dancer Devilon gets hefty applause for dance at Paper Doll without special gimmicks or routines.
Between them, the cities on both sides of Biscayne Bay have nearly twenty strip palaces. They vary as much in decor as in the pulchritude of the girls. The Red Barn is actually a termite riddled old farm building, done over for show purposes. The Five O'Clock was a smart night club, when Martha Raye played the double role of star and partner. "Miss Widemouth" moved to the more lucrative field of television, and the strip industry took over.
Between these extremes are places like the Rainbow Inn, Gaiety, Place Pigalle, Paper Doll, the Jungle Club and others. While many of the places feature "name" headliners like Brandy Martin and Dixie Evans, several provide opportunities for the newcomers in the trade. Among the latter is the Five O'Clock club situated right in the heart of the oceanfront hotel district.
Variety is the spice of the Five O'Clock. Almost any night of the year the entertainment bill will list at least fifteen well-formed youngsters, each of whom is trying her darndest to out-wiggle and out-bump the others. In this sort of competition, the customer cannot help but be the eventual winner. .
The Paper Doll which features acts like Bonnie Bell, "The Ding Dong Girl" boasts of "24–Beautiful Girls–24" appearing on three shows nightly. An added inducement is the "no cover, no admission" policy. The acts will vary from Bonnie Belle's intriguing gimmick with
Page 66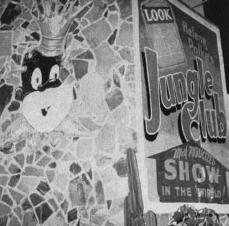 [To see a full size photo, right click and VIEW IMAGE]
[caption] College for strippers is reputation of Helene Polka's Jungle Club in Miami.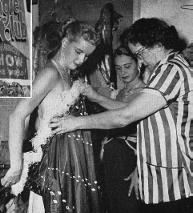 [caption] ... she checks costumes.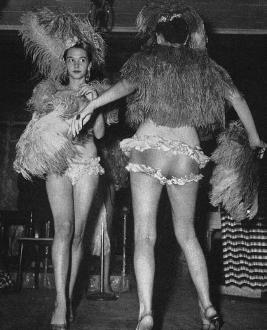 [caption] Amateur night air draws the crowd.
bells which are fastened on interesting portions of the anatomy, to the raucous dance performed by Devilon, to Jeannie Delta's routine which begins on stage but ends among the customers.
Undoubtedly one of the hottest and rawest night clubs in the city is the Jungle Club which flaunts the motto, "Where Nudes Make News." Among strippers and their coterie the Jungle Club is often referred to as a college for strippers. And, if it can be considered thus, then gay, chatty Helene Polka, a one-time Earl Carroll's Vanities girl, can be considered its dean.
Helene has been known to place ads in the paper which read:
"Can you shimmy? Can you shake? Can you walk? Girls interested in show business see Helene Polka at the Jungle Club, 3690 NW 36th St., 2 p.m. tomorrow."
During the years Helene has taken waitresses, college girls, young housewives and stranded actresses and taught them the gentle art of stripping. In Helene's estimation, over 2,000 of her girls have made the grade and appeared in her shows. The shows themselves –produced, directed, costumed, lighted and often announced by Helene– have an appeal stemming from the strange mixture of the seasoned performer and the naive amateur. The charm stems directly from the "amateur night" atmosphere. Since Helene or her husband Irwin control the turntables which supply the music for performers, there will be occasions when a dancer who is obviously not going across will find herself in the midst of a grind only to discover that the music has stopped.. The performer's only resort is to make her way offstage with the least amount of embarrassment.
Of the girls who start with Helene, approximately ten percent continue on in show business. Her graduates include one Mrs. America, several other winners of beauty contests, and a large number of successful strippers.
And if one tires of the girls, he can ask for a menu and order "jungle style" food–dishes which can only be eaten with the fingers.
Page 67
ELAINE DEMING
hometown dancer vaults
into the big time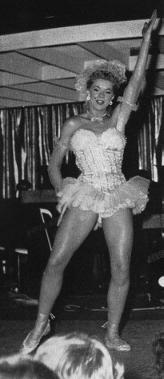 [To see a full size photo, right click and VIEW IMAGE]
[caption] Talented dancer, Elaine Deming apprenticed in glittering New York. Came home to Miami to get break.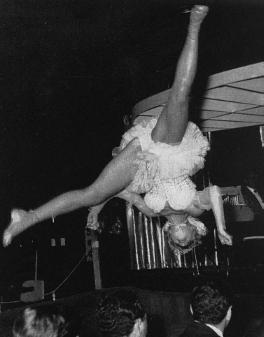 [caption] Not a strip act, Deming dance is best described as acrobatic jazz number with overtones of ballet.
GREATER MIAMI has always been a wonderful exhibition window for new talent. High bracket performers like Billy Vine, Henny Youngman, Luba Malina, Julie Wilson, Roberta Sherwood and others made their real start to fame and fortune in small clubs along the Gold Coast.
One of the newest and most promising is green-eyed, blonde Elaine Deming, a hometown girl who graduated from Miami High School in 1953 and went into show business immediately. She is a dancer. To say she specializes in acrobat jazz, with
Page 68
overtones of ballet does not tell the whole story. Elaine has more than extraordinary reflexes and variety of steps. She has a quality (call it personality or whatever you will) that reaches out across the rooms in which she works to win the linking of the audiences. It's a quality entertainers must be born with; not one that can be developed.
As soon as she finished high school, Miss Deming though she hadn't reached her eighteenth birthday, went to New York to work on routines, had musical arrangements while her agent prodded around for bookings.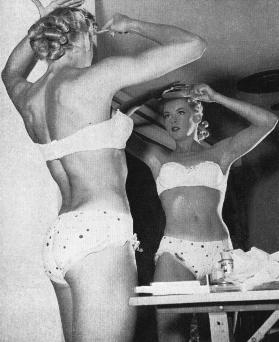 [To see a full size photo, right click and VIEW IMAGE]
[caption] Likeable personality, immaculate grooming, top physical condition, are Deming success formula.
Miami critics boosted her local papers after catching act at Club Chalet.
That's a rough time for a young performer. Competition is clamorous, and club owners are hard to sell on unknown kids. Elaine got her first chance in the Bal Tabarin, a cellar spot next door to the Hotel Edison. The Tabarin isn't one of the glamour places, but has been in operation for many years, the show wise people often look there for promising newcomers. The girl was booked for two weeks. The club kept her fourteen, quick recognition of personality that is making her a success.
After that Miss Deming played Blinstrub's Village in Boston, where Frankie Laine was the star, the 500 Club in Atlantic City, and small spots in New Jersey, and, of course, Brooklyn. Everybody plays Brooklyn sooner or later. She discovered one thing aside from the fact that show business is a difficult one to buck, and a girl gets lonesome, sometimes discouraged. That was that the stars were always, nearly always kind and encouraging. It helped a lot.
Something more than a year and a half after starting her career, Elaine returned to Miami. Local bookers didn't know much about her. No one seemed interested. Finally she took a job in the Selma Marlowe chorus line in the Clover Club.
Sherry Britton was headlining at the Clover, which is only a memory now, but when Jack Goldman ran it, was one of the last to stick stubbornly to a line of dancing girls. Sherry is a beautiful impossible combination of dramatic actress and stripper, and very show wise. She took a fancy to Elaine, and in intimate dressing room talks gave her helpful tips on what to do and what not to do. The youngster says Miss Britton helped her more than almost anyone else she had ever known.
Selma Marlowe, also intrigued with Elaine's possibilities, gave her a chance in production numbers. The kid clicked. A girl in the line, even in her own hometown, doesn't get much publicity. On her own, she has a chance to capitalize on her abilities. Miss Deming took full advantage of her opportunity.
Her big break came when she was signed by the Club Chalet, of the Lucerne Hotel, one of the swankiest rooms on the Beach. Ruth Wallis had top billing, and in the Lucerne's first ads on the amusement pages Miss Deming didn't get a mention. Publicity director Pete Heller, amazed by the storm of approval from the audience, thereafter gave her black type in newspaper space he bought. More important, critics applauded in print. Miami reviewers, who have the world's best talent paraded past their jaded eyes night after night, can be sharp at times. They were unanimously and enthusiastically kind to the youthful dancer. She is, everyone agrees, on her way to the top.
Page 69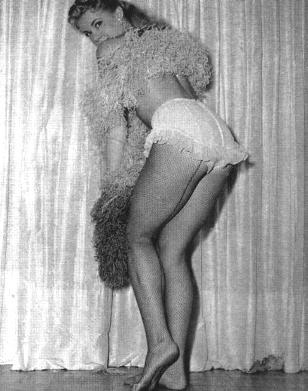 [To see a full size photo, right click and VIEW IMAGE]

PHOTO [caption] Strenuous dance routine demonstrated extraordinary reflexes and variety of steps. Deming effortlessness is smoothly deceptive. Long hours of practice and rehearsal make dance so.
SAN SAN
fresh from finishing school,
she's more vamp than vampire
Page 70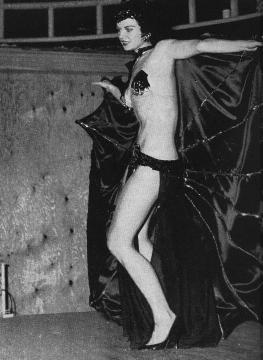 [To see a full size photo, right click and VIEW IMAGE]

[caption] Vampire Dance of San San has appropriately ominous background music. Batwing cape is soon discarded and rest of costume follows ... as music gets jazzier beat. Vampire triumph is tantalizing finale.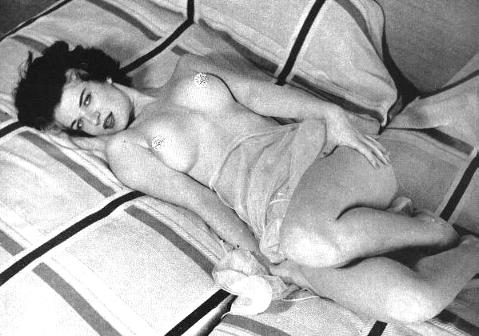 [To see a full size photo, right click and VIEW IMAGE]

[caption] Warm, natural personality of San San is not without sense of humor. "Mon de strip" comes from French "sans" meaning, without. In this case without clothes.
Page 71
THAT which keeps the established performer on her toes is the ever-present fact that there's a starry-eyed youngster waiting in the wings–ready to make her determined bid for the plush dressing room. Hotel row may have its Elaine Deming, but along the less sophisticated, raucous strip row, the newcomer with promise is a girl labeled San San who performs a vampire strip at the Five O'Clock.
From her name one might imagine San San to be a slant-eyed Oriental. She isn't. Her real one is Frankie Parham. She's a twenty-two year old girl from Moultrie, Georgia, brand new to the business of taking off her clothes in public, but if Sy Shapiro and other experts of the Dawn Patrol are right, she's headed for the nudist fame of Lili St. Cyr and other sisters of the skin. The gal showed a sense of humor in selecting her "nom de strip." "Sans" means "without"–in this case, of course, without clothes.
Frankie's mother was a Charleston dancer on the old Orsenic minstrel circuit, and James Welton, the singer, is her second cousin, though it's a cinch Jimmy never taught the youngster any tricks of her trade. Miss Parham went to Kenlard finishing school in Daytona Beach, majoring in commercial art, but blessed with a gorgeous figure–it's 36-22-36–and a dancing itch in her toes, it was obvious she wasn't going to drape herself over a drawing board for long. San San modeled and spent her spare time doing rhythm tap dances at military installations, where she got more whistles than the Super Chief blows between Chicago and Los Angeles.
Then she met agent Sid Leonard, Sid suggested that with a shape like hers she'd be a sucker not to make it pay dividends. Of course, Moultrie, Georgia and the finishing school would look on such activity with more than a dubious glance, and Frankie Parham was not the "come in, and see me in the raw" kind of name. Another had to be found, so San San emerged from a welter of suggestions, and a new star was born.
San San has been in the lingerie removing trade only three months, all of
Page 72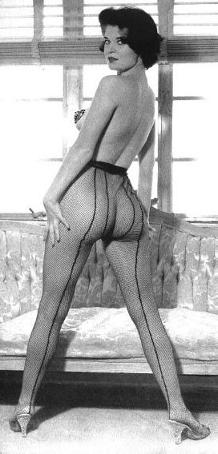 [To see a full size photo, right click and VIEW IMAGE]

[caption] Miami strip debut took place at Five O'Clock Club. Customers loved routine, keep coming back for more.
that time at the Five O'Clock Club. She hasn't attained big type in the advertisements yet, but the customers love her so much she's bound to hit higher brackets before long. San San has learned quickly–not only with teasing routines, but as any lass must do in that job, how to please everybody and protect herself in the clinches. At the moment she has black hair, with a blond streak, which, of course, can change at any moment. Her eyes are blue with a come-hither flicker, and mother's old time Charleston would seem stodgily old-fashioned compared with the way the kid struts her stuff. San San can make a career of Miami, because Miami likes her and there are many places which need girls like her.
Page 73
MIAMI LOVES THE TROPICAL PINA PARDISE
Because of its geographical location and clime, Miami has taken on the lure of a modern-day tropical isle. Befitting this concept, this resort town has discovered that exotic potions are becoming increasingly popular. Number one on the sip parade is a tasty beverage originated by Sam Denning of Club Luau- Pina Paradise.
CABARET
POURS A PARADISE
½ ounce lime juice;
½ ounce grapefruit juice
(unsweetened);
½ ounce orange juice;
1/4 ounce sugar syrup;
3/4 ounce dark Puerto Rican rum;
3/4 ounce Martinique rum;
2 chunks (1") pineapple;
1 dash Angostura bitters;
1 dash almond extract.
Place above in Waring mixer until pineapple is blended. Add cracked ice. Mix well. Pour into hollowed-out pineapple and serve.
End of Page
---
Copyright 1998-2014 Cuban Information Archives. All Rights Reserved.