CUBAN INFORMATION ARCHIVES
DOCUMENT 0201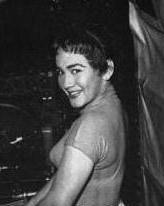 [ Main Site Menu ] [ Back to Tourism Menu ] [ Index to Site Documents ]
---
NIGHT CLUB IN THE SKY
Cubana Airlines' Tropicana Special 1957
---
[REF: CABARET MAGAZINE JANUARY 1957 pp 32-36, 45]
---
NIGHT CLUB IN THE SKY
Patrons of novel high-flying bistro enjoy the show and
drinks while 10,000 feet above ocean on way to Cuba.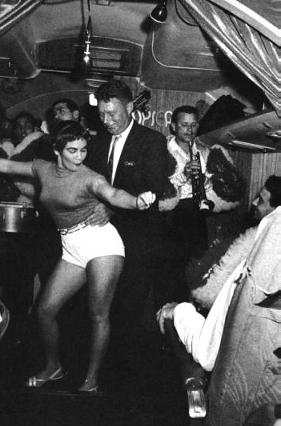 [To see a full size photo, right click and VIEW IMAGE]
[caption] MAMBO LINE is joined by customers as performers snake up and down the aisle in the plane, when party gets warmed up later.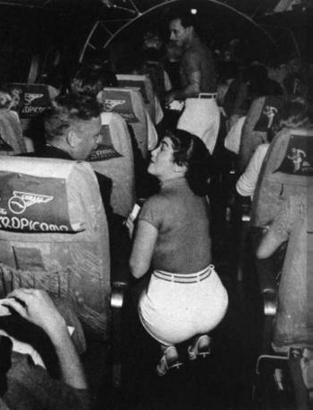 PHOTO [caption] PASSING OUT SONG CARDS, dancers Gloria and Rolando invite customers to join singing and dancing during flight.
By Henry Durling
THE DREAM of every night club operator is to create an atmosphere that will hold his customers, keep them from drifting out after a while and into the spot down the street, and nearly every trick from door prizes to knockout drops has been tried to accomplish this end through the years. The most effective method to date, however, has been adopted in Miami, where people are all up in the air about a new kind of cabaret that literally sets a new high in atmosphere by whisking its patrons 10,000 feet into the rarified regions where only birds usually go.
The fledgling nitery is Cubana Airlines' Tropicana Special, an innovation in cabaret enterprise that has eliminated all the problems of drifting patrons.
Jaded night club fans in the famed resort are finding that boredom banishes and drinks and entertainment have a new zest when enjoyed in cloudland. As a result, the new nitery in the sky is enjoying a booming business that is the envy of all its earthbound competitors.
The Special is designed primarily for bon vivants desirous of sampling the night life of nearby Cuba. It takes off every Thursday from Miami's international airport. An hour later it sets its happier patrons down in the balmy air of the land of daiquiris and sex at Havana's Aeropuerto Jose Marti. In between the bibblers are treated to excellent drinks, top-notch Latin music, and a floor show that fills the plane with song and laughter.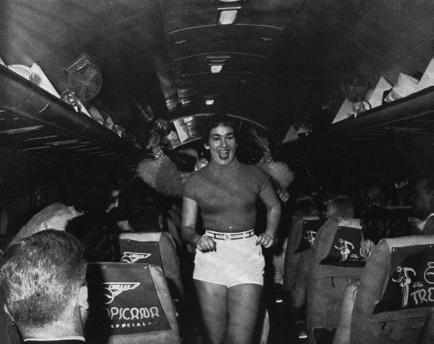 [To see a full size photo, right click and VIEW IMAGE]
[caption] DANCING DOWN THE AISLE, vivacious Gloria carries show full length of cabin, making each patron feel he has a ringside seat as the plane wings across water to Cuba. Special decor designed for flight includes seat cloths bearing name and symbol of Tropicana night club.
page 34
Brainchild of Antonio Montero, stocky, dynamic promotion manager of the burgeoning Cuban airline, the flying saloon took two months of preparation before it was unveiled last year. It is currently being operated in a package deal with Havana's fabulous Tropicana night club, from which it takes its name.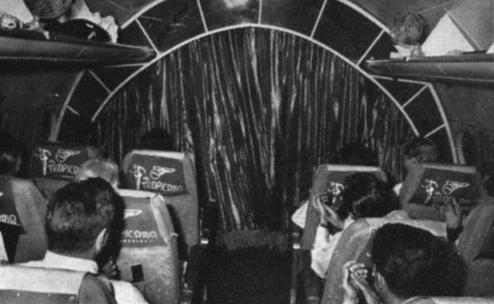 [To see a full size photo, right click and VIEW IMAGE]
[caption] MINIATURE STAGE installed at front of cabin has arch like that at Tropicana night club, collapsible for easy removal from plane between special flights to Cuban capital.
Revelers who want to try the thrills of a night spot in the air pay $68.80 for a ticket which includes the night club flight, an evening with dinner and drinks at the Tropicana itself, an over-night stay in a Havana hotel, breakfast, and return flight.
Boarding the special, patrons find each of the 46 seats decked out in a specially-designed seat-cloth bearing the special's name and emblem. Up ahead, a gold curtain obscures the front of the cabin, which has been converted into a miniature stage, set off by a proscenium arch glowing with concealed lights.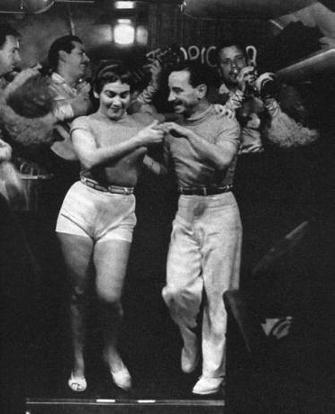 [To see a full size photo, right click and VIEW IMAGE]
[caption] OPENING SHOW, Gloria nd Rolando display form which makes them top attraction in Tropicana floor show, where patrons see them in adagio and ballroom numbers.
First come the drinks–frozen daiquiris made by a special Cuban recipe that includes a dash of grenadine, for a festive pink color. You can't drink too many of these man-sized potions, but you can have as many as you can drink.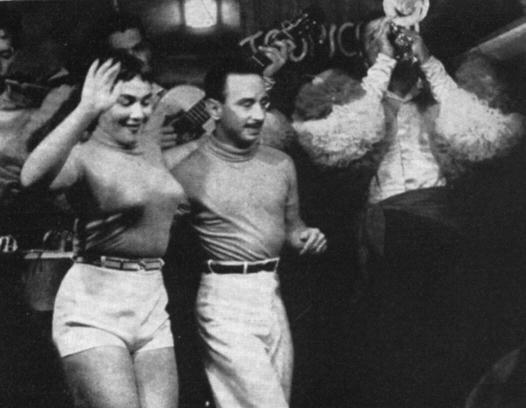 [To see a full size photo, right click and VIEW IMAGE]
[caption] MUSIC AND DANCE take up most of show, with aerobatics of Gloria and Rolando backed up by comic antics and lively music of Cuban band for package night club trip to Caribbean.
Then as the cabin lights dim, Cruz gives a bilingual introduction to the show, welcoming the patrons aboard first in Spanish, then in English. Suddenly, the plane is filled with an infectious, rhythmic Latin tune.
page 35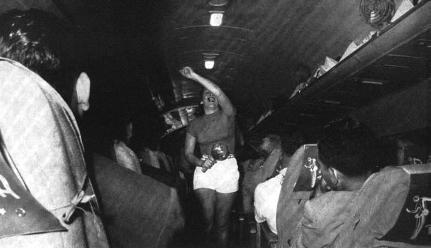 [To see a full size photo, right click and VIEW IMAGE]
[caption] DANCING DOWN AISLE, Gloria leads band in riotous Conga line which is climax to show, draws patrons out of seats to join dance, leaves everyone exhausted. Tight-fitting costumes were selected to avoid catching seats, brushing patrons during hectic dancing.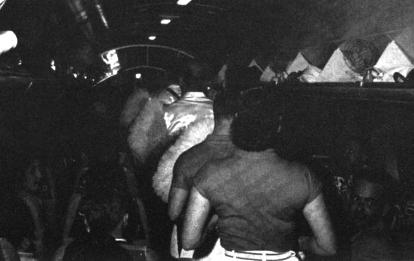 [caption] RETURNING TO STAGE, dancers are able to keep footing because special flight plan followed by plane crew minimizes lurching of plane, also reduces engine noise so music can be heard. The band includes specially cut-down piano hidden behind the stage.
The gold curtains whisk aside to reveal five musicians decked out in fiesta costumes, with trumpet, drums, guitar, maracas and piano. As the torrid Cuban music pours over them, the audience loses consciousness of the drone of the plane's four huge engines.
Up ahead, Captain Jesus Lopez Guerrero and his crew are following special operations plans for the flight –throttling back a little, bleeding air from the pressurized cabin to reduce engine noise. As the bright lights and music vibrate aft, they look out over the dark-blue gulf, scattered woolly clouds and the diamond chain of lights that are the Florida Keys moving slowly behind.
In the cabin, dancers Gloria and Rolando, an acrobatic dance team from the Tropicana floor show, have made their entrance. A diminutive, air-size performer, Gloria opens with a lively cha-cha dance. She bounces up and down the aisle, carrying the show the length of the plane, making each patron feel he has a floor side seat.
Some of the lucky males find their hair mussed, their cheek patted as she passes, and some return the favor. A few find her in their laps, smiling impishly and bounding out again before they regain their wits. One or two are invited to dance, and become part of the act on the tiny six-foot square stage, then return to their seats red-faced, flustered but immensely pleased.
Women, too, are drawn into the act in this intimate revue as Rolando escorts them forward to dance.
page 36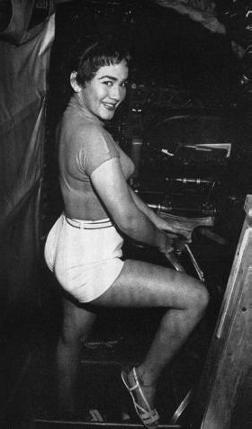 [To see a full size photo, right click and VIEW IMAGE]
[caption] WAITING FOR TAKEOFF, Gloria relaxes in tiny backstage space just aft of crew compartment in specially-converted plane.
Gloria varies the fares with a sweet-voiced rendition of "Siboney" and the whole band joins in roaring "El Rancho Grande." The patrons follow the Spanish songs on little cards distributed for their use, occasionally are urged to join in a community song.
Other numbers include a series of burlesque bits by a band member who mimics Maurice Chevalier with a battered straw hat and "Je Ne Sais Pas Why I Love You Like I Do."
While the show goes on, the plane approaches the Cuban shore, and in another ten minutes the entertainment reaches its climax. Gloria leads the whole crew along the aisle, singing and playing, and then Gloria and Rolando do flashy acrobatic bits as they range the length of the sky nitery alone. The curtain closes in a crescendo of music, the cabin lights come up, and another round of drinks is passed before landing.
Shortly, the voyagers have been ushered through customs and are on their way by special car to the Tropicana and a continuation of their fun.
The enthusiastic response of patrons was summed up by a Detroit machine shop operator who said: "It's like nothing that ever was before. Think of it–way up there, with a floor show and everything. The time went so fast you hardly knew you were flying."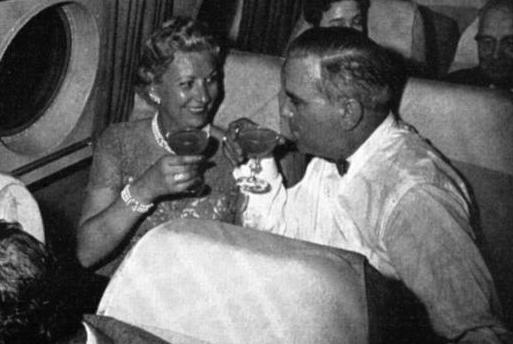 [To see a full size photo, right click and VIEW IMAGE]
[caption] TOASTING NOVEL ENTERPRISE, aerial night club patrons enjoy specially-concocted daquiri [daiquiri] cocktails served liberally.
Successful as the novel bistro is, it wasn't born without considerable in the way of labor pangs. "There were quite a few problems to work out," says Cruz, who manages the flight as well as emceeing it. Among the problems faced in launching the special was the primary one of converting the interior of a Lockheed Constellation to a night club atmosphere without losing too much payload.
"We had to put in a stage without losing too many seats," explains Cruz. "We did it by taking out only eight–two seats on each side of the aisle–and combining that area with part of the service section just behind the pilot's cabin."
All of the appointments had to be removable so that the plane could be returned to regular service until the next weekly flight.
"We had a collapsible proscenium arch built to hold the curtain and the lights," says Cruz. "It just folds up and is taken out."
Lighting offered a problem because conventional spotlights would not adapt to the short throw and cramped quarters on the flight. The solution was found in fabrication of four units custom-designed for the job. A special high-fidelity sound system was installed to bring the music and singing of the performers up front with stage side fidelity to the rear-seat passengers.
And last but from least was the problem of installing a piano in the ship. "We had to take a baby upright and cut it down by one-fourth–from 88 to 66 keys–to make it fit," says Cruz. The piano is bolted to the plane floor to prevent injury to any of the performers or six-man special crew during rough weather.
"After we had all the technical details worked out, we had to put together a show that would fit the conditions of the flight," says Cruz. "Then it took two weeks of solid rehearsals, flying over Miami and Havana to accustom the performers to the feel of performing in flight."
Cruz is ready to admit that all flights are not the satin-smooth rides of theory, though rough weather is encountered in over-water flights less often than on cross-country ones. Nevertheless, there is occasional turbulence.
"Sometimes the plane itself does the mambo, but the show must and does go on," he says. "And we have never had a dissatisfied customer."
Cruz attributes much of the nitery's success to the fact that, in spite of its odd shape, it is far more comfortable than most night clubs. "The seats are more comfortable, and there is room to stretch your legs. If you get bored with the show, you can put your seat back and doze off. No one will mind. If you don't the show is routined so that you see much more of the performers, close up, than you would in the ordinary night club."
Contemplating the success of its first venture, Cubana is now thinking of making the Tropicana special a nightly affair, and putting shows on some of its longer hauls, too, to Mexico, Spain, Haiti and the Dominican Republic.
The possibility of a night club flight direct from New York is under consideration also, using three new Viking Viscounts, turbojet liners recently purchased by the airline.
"It's a new idea that's catching on," says Cruz. "Why not carry it further, onward and upward?"
End of Page
---
Copyright 1998-2014 Cuban Information Archives. All Rights Reserved.