CUBAN INFORMATION ARCHIVES
DOCUMENT 0188
[ Main Site Menu ] [ Back to Entertainment Menu ] [ Back to Tourism Menu [ Index to Site Documents ]
---
TROPICANA
IS MOST BEAUTIFUL CLUB
---
[REF: Cabaret Yearbook, Winter Resort Number, Volume One, poss 1956, p62]
---
TROPICANA IS MOST BEAUTIFUL CLUB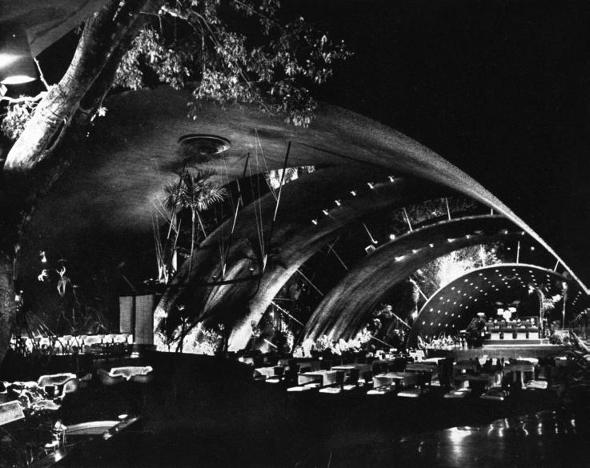 [To see a full size photo, right click and VIEW IMAGE]
[caption] Tropicana is actually two niteries. Arched outdoor area along modernistic lines is set in tropical palm trees. Indoor Crystal Arc is air-conditioned for hot days. Five years ago owner spent more than $500,000 to build new facilities.
TO THE MILLIONS of Americans who have visited the city–and to the many millions more who would like to but have not as yet–the name of Havana suggests rum, rumba, roulette and romance. These the 441-year-old city certainly has, but no-where are they more concentrated than in some of its cabarets.
There is no nitery anywhere in the world that matches the Tropicana for beauty as well as size. Its tropical grounds with palm trees amidst its outdoor tables cover more than 300,000 square feet. Able to accommodate 1750 nightly customers, the Tropicana is a resort spa unmatched anywhere in the States. For in addition to musical extravaganzas featuring lovely Latin girls, the club also has legalized gambling that includes everything from dollar slot machines to dice and roulette.
The shows are done on a par with Hollywood musicals and the bill runs to $10,000 weekly. Three orchestras keep busy all evening providing music for dancers. For unlike so many Americans bistros, the Tropicana does have dancing. The latest Latin rhythms are featured and Cubans do not miss an opportunity to dance. The club also has another innovation–its prices. For $5 minimum on Saturday night, the customer gets a full meal.
Tropicana was formerly a private club, sold after the death of the owner. In converting the estate to a club, businessman Martin Fox did not spare any expense. He also was determined to salvage as much of the natural beauty of the tropical site as possible. Today the Tropicana is as much as tourist attraction for its natural beauty as for its productions, which cost about $75,000 to stage. Usually there is a headliner to top off the lavish shows. Carmen Miranda made her last night club appearance before her death at the club.
To pay the freight for the club, that runs to $5,000 daily takes a lot of customers and Tropicana usually has them–some 500 every night during the summer and a full house every evening during the winter resort season beginning in December.
Page 63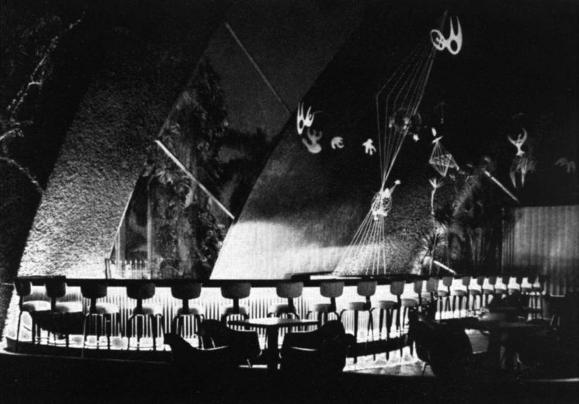 [To see a full size photo, right click and VIEW IMAGE]
[caption] Attractive outdoor bar of Tropicana is located so that show can be watched from here without paying $5 minimum. Drinks cost $1, are mostly based on rum.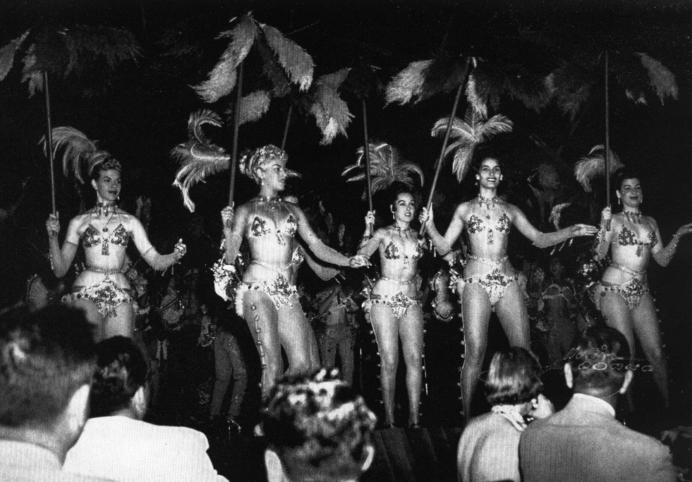 [caption] Brazilian theme is motif of new Tropicana show, staged by club choreographer Rodney. Chorus performs not only in front of customers but on stages set in palms.
Page 64
CHORINES ARE HIPPY BUT NATURAL LOOKING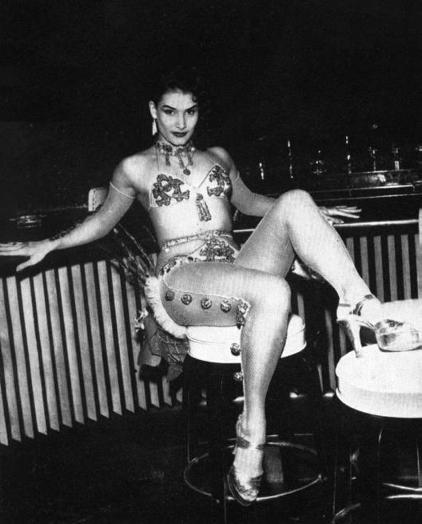 [To see a full size photo, right click and VIEW IMAGE]
[caption] Typical Tropicana show girl is Alicia Figueroa, a tall, long-limbed sultry beauty. Club gives two shows nightly -- first at 11:30 and at 1:30 a.m.
LIKE NIGHT CLUBS all over the world, the gay spots in Havana present girls–but they are unlike the females seen in America or Europe. The Latin chorine is more buxom, more sexy-looking than her American counterpart. In keeping with the Latin standard of what is a desirable woman, most dancers have hips that would bar them from American stages. Actually Latin pulchritude is closer to nature, not nearly as make-believe as some U.S. chorines.

[To see a full size photo, right click and VIEW IMAGE]
[caption] Elia Roban is native Cuban beauty in Tropicana show. Club spends up to $10,000 for costumes in each review.
In costume the tendency runs to bold bright colors and flashy primitive effects. Dancing is no nearly as precise as in U.S. choruses but there is much more zest in the native Latin steps. To get a dancing job at the Tropicana is a true mark of distinction and there is much competition for the chorus, although the salary is only about $50 weekly. That is low by American standards but high in Cuba.
Page 65

[To see a full size photo, right click and VIEW IMAGE]
[caption] Jennie Leon is typical of broad-hipped girls in chorus. Her costume has French touch, with exposed garters.

[caption] Nelsy Vega is slimmer, more streamlined than most Cuban chorines. High headdress are worn in current review.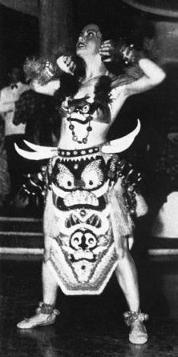 [caption] Afro-Cuban motif is used in many dances at Tropicana. Mayra performs sacrificial dance in costume of feathers and horns.
Page 67
NO G-STRING FOR BURLESQUE
THE ONE SPOT in Havana that provides a full, uncluttered view of females in a natural state is a burlesque house called the Shanghai. Formerly a Chinese theater converted to a burlesque house 24 years ago, the Shanghai is Havana's only strip palace–and perhaps the only theater in the world where girls strip completely nude minus any G-strings or net coverings. Operating quasi-legally, theater has never had to close "except for revolutions," says impresario Jose Orozco Garcia.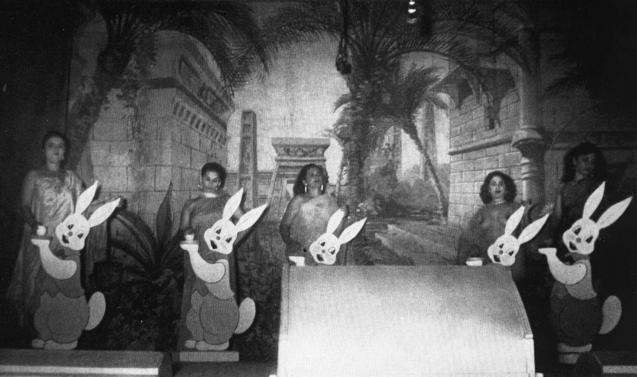 [To see a full size photo, right click and VIEW IMAGE]
[caption] Sneaked camera shot at Shanghai burlesque shows hefty Cuban glamour girls about to strip nude in finale.
Actually the Shanghai combines nude strippers with pornographic movies, which Garcia points out "come from New York, Paris and Mexico City." There are rarely women in the audience of the shabby theater that has two shows nightly with prices from 60 cents to $1.25. The girls in the show are a motley collection of hefty chorines, who appear totally nude at the finale. There are usually eight and the impresario explains: "Ours is a small country and there are not many girls who are willing to appear naked."
End of Page
---
Copyright 1998-2014 Cuban Information Archives. All Rights Reserved.