CUBAN INFORMATION ARCHIVES
DOCUMENT 0184
[ Main Site Menu ] [ Back to Entertainment Menu ] [ Back to Tourism Menu ] [ Index to Site Documents ]
---
U.S. Stripper
BUBBLES DARLENE
(Virginia Lachinia)
Debunks Hit Cuban Song
"La Enganadora"
---
[REF: Cabaret Yearbook, Winter Resort Number, Volume One, poss 1956, p42]
---
BUBBLES DARLENE
Anything goes when Bubbles is on.
Torrid Latin routines went over big
during Havana appearance, especially
the walk she took in nothing but a
raincoat. Cuban males loved it all.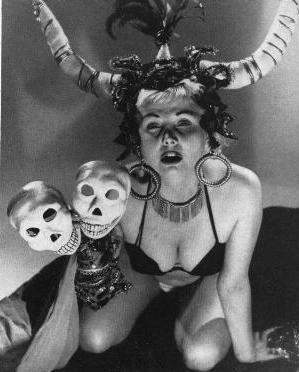 [To see a full size photo, right click and VIEW IMAGE]
---
[REF: Cabaret Yearbook, Winter Resort Number, Volume One, poss 1956, p66]
U.S. STRIPPER SHOCKS EVEN HAVANA WITH NUDE STROLL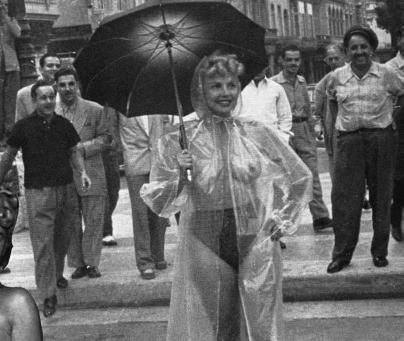 [To see a full size photo, right click and VIEW IMAGE]
[caption] Shocking even to sexy Havana was sight of U. S. stripper Bubbles Darlene walking down main street in transparent raincoat. Stunt was publicity.
FOR ALL its sexiness, Havana can be shocked by too liberal a display of the female form. Actually there is little display of flesh in most clubs and bare bosoms are hard to find. When an American strip teaser performing in Cuba decided to walk down a main thoroughfare dressed only in panties and a transparent raincoat, Havana was shocked indeed and police promptly hauled her in. She was Bubbles Darlene, who performs occasionally at Minsky's in Newark, N.J., with the billing of "American's Most Exciting Body." When Bubbles took a stroll to expose her well-advertised body, police were excited indeed, promptly hauled her away to the pokey. Bubbles would up with lots of front-page pictures and a $50 fine. Other U.S. strippers who have performed in Havana have been much inhibited by the local gendarmes, do not peel nearly as much as they do back home.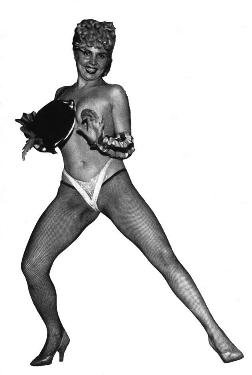 [no caption]
Page 67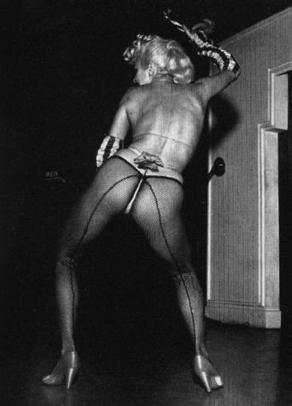 [To see a full size photo, right click and VIEW IMAGE]
[caption] Performing torrid mambo routine in Cuban club, Bubbles Darlene won as many admirers for her dancing as stripping.


---
[REF: MODERN MAN, May 1955, Page 22]
THE GIRL WHO WON'T WEAR FALSIES
BUBBLES DARLENE DEBUNKS HIT CUBAN SONG BY HER WALK IN SUN WEARING NOTHING BUT BLACK PANTIES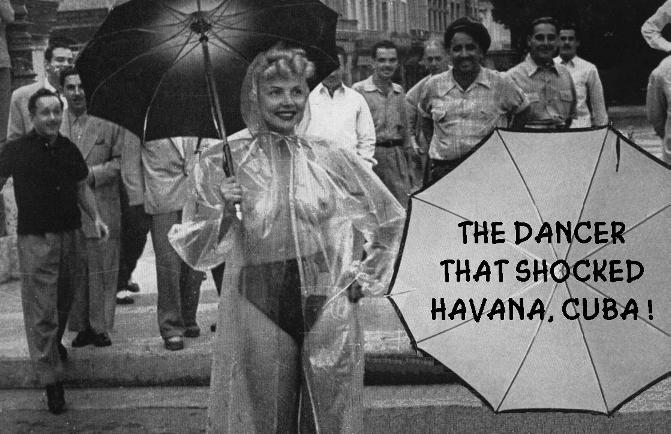 [To see a full size photo, right click and VIEW IMAGE]
[caption] Promenading with nothing but black panties, transparent raincoat and a broad smile, Bubbles Darlene is watched by amused and delighted Havana spectators.
By: Leonard Bennett
NO CITY in the Western hemisphere has more naughty and more undraped night club shows than Havana. In this big wide-open city where daring entertainment is a standard tourist commodity, nudity in niteries is as common as in Paris. For an American strip teaser to attempt to bring her act to the Cuban capital is like the proverbial carrying of coals to Newcastle.
Yet one U.S. stripper stood Havana on its ear with her disrobing routine, delighted crowds of male pedestrians,
Page 23
brought out screaming squad cars and shocked the city as no entertainer has in decades. She was Bubbles Darlene of Minneapolis, who staged a one-woman revolt against falsies in Havana by strolling down the main street dressed in only a revealing transparent raincoat and black panties.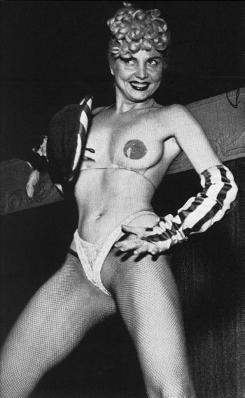 [To see a full size photo, right click and VIEW IMAGE]
[caption] Net stockings and pasties are standard costume for Bubbles in mambo dance...
Inspiration for her walk in the sun was a Cuban hit song, called "La Enganadora," or "The Deceiver," which tells about a girl who fooled her boy friend by wearing falsies. With a sweater-filling 37-inch bust, the exotic dancer decided to show Havana at least one girl who did not need to wear falsies. Before dozens of pedestrians in a crowded street, Bubbles stepped out of a car, opened her plastic umbrella and promenaded nonchalantly while an astounded crowd gathered behind her. Soon police arrived on the scene and an officer took her by the arm and asked: "What's wrong with you? Why are you doing this?"
With a smile she replied: " I do not want to deceive anyone." Then she tried to speak the Spanish words of the popular song, "The Deceiver."
At the station, she was asked to identify herself and after telling her name, was asked: "Where are you from?"
Page 24
Her reply: "From everywhere. Art has no boundaries."
Then after explaining that she was an exotic dancer, who specialized in a sizzling strip version of the mambo, she added: "It was very hot and I decided to get out of my hotel room for a walk. I was listening to the radio playing 'The Deceiver.' I knew that the lyrics of the song dealt with a girl who wore falsies in order to have a better figure. Well, I thought, I don't need any falsies and I'm going to show the world the song is not true about all girls. So I went out into the street like this. I did not think the gay Cubans would mind."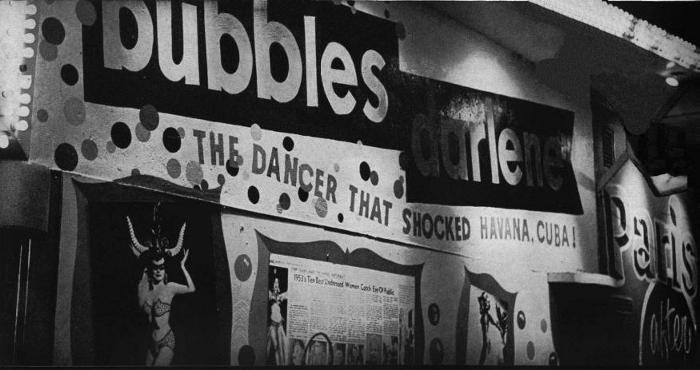 [To see a full size photo, right click and VIEW IMAGE]
[caption] Billed as "The Dancer That Shocked Havana," Bubbles plays top nigheries, was co-starred with boxer Rocky Graziano at Miami Beachcomber.
The Cubans did mind, however. Bubbles was fined $200 for indecent exposure and inciting a riot. But Bubbles did not mind: her clippings from Havana newspapers and magazines were worth far more than $200 in publicity when she returned to perform in such Cuban spots as the big Hotel Sevilla Biltmore at $1,000 weekly.
Page 25
Bubbles, whose real name is Virginia Lachinia, has had a knack for publicity stunts since she broke into the show world as a $90 a week dancer at Chicago's Rialto Theater. Recognizing early that "you have to be crazy in our business," Bubbles has been willing to do anything for press notices. Last year she was chosen as one of the "Ten Best Undressed Women of America" by newspaperman Damon Runyon, Jr., joining the company of such top names as Marlene Dietrich and Marilyn Monroe.
"I don't feel embarrassed in the nude," she insists. It's art as far as I'm concerned–just so long as you don't have to associate with men."
Bubbles, (Continued on page 47)
Page 47
who is of Polish and Irish descent, is not an ordinary stripper, although that is how she began in the business with the name of Sheri Darlene, picked by her sister. It was burlesque impresario Harold Minsky, who gave her the name of "Bubbles"–"because I'm so effervescent," as she explains. Determined to get out of the routine disrobing act, Bubbles went to dancing school and studied both voodoo and mambo steps which she combined in her exotic act.
The first time she auditioned in Havana, she suddenly found the music dying out and noticed musicians coming out of the band pit to watch the "first white exotic dancer" they had seen. Clad only in a G-string made with rhinestones (for which she pays up to $50 contrasted with the ordinary kind that costs only $2.50), Bubbles performs some of the best rhythmic dancing seen on the strip circuit. Her muscular undulations are spectacular and leave amazed audience as well as herself exhausted.
To replenish her energy, she gets as much as ten hours sleep daily after her last show in the wee hours of the morning and eats such health-giving foods as liver and yogurt. Never smoking or drinking, she has another secret of looking and being healthy: nude sunbathing. Whenever she gets the opportunity, she gets out into the sun to get an all-over tan. "You should be tanned all over or not at all," she asserts. "That way you really absorb the sun's rays and there are no marks on your body. I don't think they're pretty at all."
Even at home, she sheds her clothes to get under a sun lamp. "I never wear clothes when I don't have to," she says. "I don't think there's anything vulgar in the human body. It's all a matter of health. I just love nudist camps. I hope to become an active nudist soon and join a camp or even start my own camp up in Minnesota, where I still make my home. That's my ambition."
In addition to never donning falsies, Bubbles does not wear a bra "unless I have to–like with a half slip. I never wear a girdle. I don't like anything that grips you tightly."
Bubbles, who is a divorcee, does not particularly care to get married again. Although she insists she has "no time for men" because she is devoted to her career, she admits she finds all men "attractive."
"I like men because they don't cost much," she asserts with a wry smile.
Her immediate ambition is to go to South America for dance engagements. "I'd like to go to Rio," she says. "I hear its really fabulous."
Every summer she goes home to Minnesota, where she went to the Edison High School in Minneapolis, and vacations at a cabin she owns on Prior Lake, where she always swims minus a suit or even a bikini.
Unlike so many show girls, Bubbles has no illusions of theatrical success. She enjoys exotic dancing and says: "I'm probably the only girl in the business who hasn't any dramatic ambitions. Most girls want to be actresses. Not me. I just want to keep doing what I'm doing now."
End of Page
---
Copyright 1998-2014 Cuban Information Archives. All Rights Reserved.