CUBAN INFORMATION ARCHIVES
DOCUMENT 0135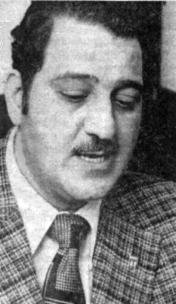 [ Main Site Menu ] [ Back to Protest Menu ] [ Index to Site Documents ]
---
Emilio Milian Bombing
Continuing Investigation Dec 1976
---
[Reference: Dade County Florida OCB CASE NO: 3-92; 4-800]
---
DATE: December 21, 1976
Continuing investigation into the EMILIO MILIAN bombing.
SYNOPSIS:
Interview of FELIPE GONZALEZ SERRAIN conducted by this writer and Det. D. Bonitos on Monday, December 20, 1976, at approximately 7:30 p.m. The interview took place at GONZALEZ SERRAIN'S residence.
DETAILS:
On Monday, December 20, 1976, this writer and Det. D. Bonitos interviewed FELIPE GONZALEZ SERRAIN, who provided the following information.
That the full name of the female who met him and ROBERTO FERNANDEZ near the WQBA parking lot is BLANCA SOTO nee BLANCA JIMENEZ. That she is a Chilean national who is presently residing in Miami illegally. That BLANCA SOTO had called him on Monday and asked him (SERRAIN) for a job at the Ocean Pavillion Hotel.
That he would set up a meeting with ROBERTO FERNANDEZ to meet this writer on December 21, 1976 at the Ocean Pavillion Hotel, room 1614, at approximately 12:00 noon. That FERNANDEZ was very hesitant to speak to anyone about the incident (Milian bombing) and that he felt that the meeting should include only this writer, FERNANDEZ and himself (SERRAIN).
That he recalls that the vehicle he observed GASPAR JIMENEZ and the other unidentified person working on at the WQBA parking lot was a white or light colored station wagon which was facing toward S. W. 1 Street and was parked approximately in the middle of the WQBA parking lot. SERRAIN described the unidentified male as a W/M approximately in his 20's, approximately 5'8" in height, medium complexion, with blonde or light brown hair, with a handsome Latin face and no facial hair. SERRAIN further stated that he was shown a photograph
of the same person by FBI S/A V. Warger but that he did not tell S/A Warger that the photograph depicted the same person he had observed at the WQBA parking lot working under the above described vehicle. It should be noted that SERRAIN had not disclosed to S/A Warger that he (SERRAIN) had been present at the WQBA parking lot when the aforementioned event took place, but that he had only informed Warger that he knew a person who had been present and Warger gave SERRAIN the photographs so that they could be shown to the other person.
That allegedly he had met with CARLOS RIVERO DEL COLLADO on at least two occasions in May 1976. During one of those meetings RIVERO attempted to recruit him to work for the Cuban government and offered him money and also showed him a photograph of SERRAIN'S son and RIVERO'S son which was taken in Cuba and also gave him a 25 cent coin that had been stretched out to the size of a silver dollar and instructed him to keep that coin because it would be used to identify SERRAIN to other Cuban agents.
That after the JESUS GONZALEZ CARTAS homicide he received a phone call from HUMBERTO LOPEZ, SR. during which LOPEZ instructed him to attend the GONZALEZ CARTAS funeral and to take the aforementioned coin with him. That when he arrived at the funeral home he was standing holding a conversation with VIDAL MORALES and REVEREND (FNU) O'FARRIL when he was introduced to GUILLERMO (WILLIE CALVINO); that the young bearded person also pulled out of his pocket a coin similar to the one that COLLADO had given SERRAIN and that he then stated it was important for SERRAIN to see EVA GUTIERREZ, who was also present at the funeral.
That he later met with EVA GUTIERREZ who in turn introduced him to a Cuban mulatto male known to him only as HERMINIO, who is also a Cuban agent and who at a later time informed SERRAIN that he should travel to Jamaica in order to meet with CARLOS RAFAEL RODRIGUEZ (a high ranking member of the Cuban politburo and communist party); however, SERRAIN was unable to travel outside the U. S. territory and was unable to set up the meeting.
That HERMINIO at a later day instructed him to travel to the New York City area where he was to make contact with two ABDALA members, LAZARO ALVAREZ and GUSTAVO MARIN DUARTE, who in turn would introduce SERRAIN to RICARDO ALARCON (Cuban consul to the United Nations Cuban delegation). That ALARCON would provide SERRAIN with money and instructions on how to set up a "dummy corporation" which would serve as a front to pay a group of people which would consist of 10 or 12 members personally recruited by SERRAIN which would be made to believe that they are working for the CIA (Central Intelligence Agency). This group of persons may be used to carry out political assassinations including that of MANUEL ESPINOSA.
That according to HERMINIO, REVEREND MANUEL ESPINOSA would undertake a propaganda campaign which would be favorable to the Cuban government and which would culminate in the release of several American prisoners from Cuba's jails approximately in mid January 1977. That after that event takes place, ESPINOSA would be assassinated by SERRAIN'S group of people in order to make it appear as though the CIA was responsible for ESPINOSA'S assassination.
Investigation continues.
PREPARED BY: _________________________
E. F. MEDEROS, Officer
Terrorist & Security Unit
APPROVED BY: __________________________
P. JANOSKY, Sergeant
Terrorist & Security Unit
REVIEWED BY: __________________________
T. LYONS, Supervisor
Tactical Investigation Section
EFM/do
End of Page
---
Copyright 1998-2014 Cuban Information Archives. All Rights Reserved.