CUBAN INFORMATION ARCHIVES
DOCUMENT 0061
[ Main Site Menu ] [ Back to JFK Menu ] [ Index to Site Documents ]
---
THREAT to JFK in MIAMI
by CUBANS
NOVEMBER 16, 1963

---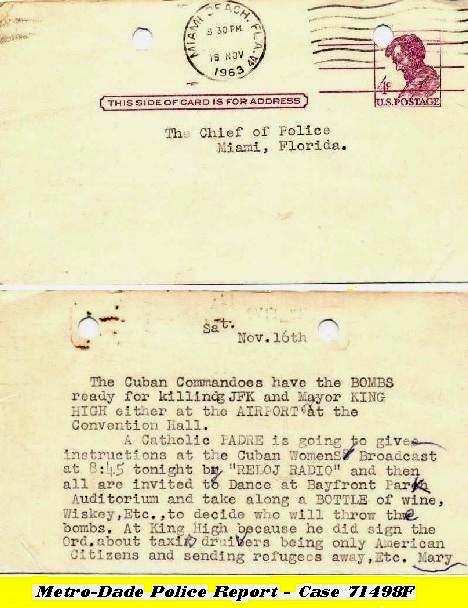 [REFERENCE: Dade County OCB file number 71498F. The file contained three items, a lab report
on the postcard, THE ORIGINAL POSTCARD and a summary of the lab report. Below is the lab
report. The postcard may be viewed at the links.]
---
METROPOLITAN DADE COUNTY - FLORIDA
PUBLIC SAFETY DEPARTMENT
OFFICE OF METROPOLITAN SHERIFF
1320 N.W. 14TH STREET
MIAMI 35, FLORIDA
FR 7-1911
November 19, 1963
LABORATORY REPORT
Case 71498F
Lt. L. J. VanBuskirk
Criminal Intelligence Section
Public Safety Department
On November 18, 1963, Det. Ciacco of our Criminal Intelligence Section submitted to this office an
anonymous typewritten card
addressed to "The Chief of Police, Miami, Fla." This card was submitted for document examination and study.
Studies of the typewriting on the card reveal that the typewriting was executed on a Royal Typewriter, pica type, with serial numbers near the 4,000,000 series.
The date of manufacture of such a machine would be before 1952.
Respectfully submitted,
VINCENT E. SEVERS, Criminalist
Crime Laboratory Bureau
VES/ss
End of Page
---
Copyright 1998-2014 Cuban Information Archives. All Rights Reserved.